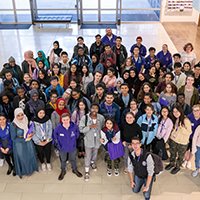 Wednesday, 18 December 2019
More than 80 year 12 students from across Perth have graduated from the Fairway UWA program.
Over the past year, the students—all of whom face financial or other challenges—visited the UWA campus for events such as Summer School, master classes, revision courses and Winter School, and benefited from regular revision classes and online support.
At a graduation ceremony last month, the year 12 students, family members, friends, school teachers, and university guests enjoyed afternoon tea and celebrated the graduands' achievements.
The Fairway graduation was a positive end to the graduands' final year of secondary schooling with students collecting certificates and yearbooks, as well as hearing speeches from special guests and Fairway students.
The event was attended by Deputy Vice-Chancellor (Education) Professor David Sadler, Hon Fred Chaney, UWA staff and alumni. Former UWA Chancellor Hon Ken Michael was the special guest at the ceremony, presenting certificates to students.
Fairway UWA is a study support program and an alternative pathway that works with high school students facing financial or other challenges. Since 2012, over 800 students have benefitted from the Fairway UWA program and over 200 students have successfully been accepted as UWA students.
The Fairway UWA Graduation ceremony was held on November 19.
Tags
Groups

Education Quarterly