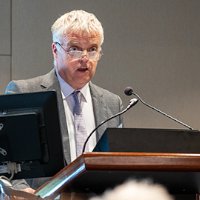 Wednesday, 18 December 2019
A management consulting firm, citizen science program, residential college, accounting firm and medical research centre are among organisations that have been recognised for their commitment to providing UWA students with quality internship opportunities.
At last month's Work Integrated Learning (WIL) Host Thank You Event, held at the University Club of WA, five organisations were presented with Work Integrated Learning Awards for outstanding contributions and innovative practices in the WIL area.
The Awards for Continued Contribution to Work Integrated Learning recognise UWA's industry partners who have demonstrated excellence in developing programs that enhance the WIL experience for students, and for sustained commitment in influencing, motivating and supporting student learning and development.
The recipients were:
Barry Marshall Microblitz Program
RedHead Communications
RSM
BioDiscovery Centre
The Innovation Award for Work Integrated Learning recognises organisations who take an innovative approach to student learning and quality of the student experience.
University Hall, UWA – For the creation of a new business model for UCafe and launching HiRez Media internships for students, allowing multiple residents to undertake an internship at the hall itself. The UCafe internship provides students with an opportunity to gain real-world experience operating a café as a business, in various roles such as Marketing Director, Operations Manager and Financial Analyst. HiRez Media is a strategic communications internship which educates UniHall students in digital media and digital production. UniHall provides them with the opportunity to use these skills by reporting and producing content for their various events.
UWA has been partnering successfully with host organisations for many years. Work Integrated Learning opportunities are available across disciplines such as arts, business, science and engineering. These partnerships provide real world experiences for our students to prepare them to become future leaders.
A video featuring students and hosts talking about their Work Integrated Learning experiences was screened during the event.
Tanya Finnie, Director of RedHead Communications, shared her experience of hosting students.
"It is actually such a privilege to take on interns, as much as they have learnt from me, it has been a learning curve for myself as I have learnt a lot from the students as well," she said.
John Dowey, a third year Accounting and Finance student who completed the WILG2001 unit, recounted how his internship led him to secure a graduate position at RSM.
"The internship at Fair Go Finance really showed me where I can go with my career and what I want to do in the future. WIL was a real turning point to get me that experience to apply at RSM for an internship," he said.
After his internship at RSM, John secured a graduate role at RSM, where he is currently working as a Chartered Accountant.
We look forward to working with our partners again in 2020.
Tags
Groups

Education Quarterly