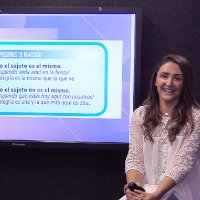 Wednesday, 18 December 2019
Spanish students have given the thumbs-up to a new take on flipped classrooms, praising the innovative teaching format for "making learning easy".
Spanish Studies lecturer Dr Anna Gadd and Arts Digital Learning Technologist Darren Neumann teamed up to develop a series of edited videos, in the style of a flipped classroom, for Anna's students.
Anna praised the pedagogical flexibility of these lessons.
"Students learn at their own pace, in their own time and while enjoying the mobility of their devices," she said.
"They are empowered to be proactive and take control of their own learning.
"Feedback from our students strongly suggests that the grammatical component of the Spanish language is taught more clearly, concisely and efficiently when classrooms are flipped.
"The feedback also emphasises how helpful, beneficial, easy and comfortable the flipped classroom modality is for students."
The SPAN2404 Spanish Studies 4 lessons were filmed in the Arts Automated Video Studio and made possible by an Educational Enhancement Unit Flipped Classroom Grant.
Darren edited and graded the footage, and added on-screen prompts, images and motion graphics.
"These graphics visually illustrated and further demonstrated the concepts being taught," he said.
"All the post-production work was designed to increase the clarity of the lessons, and the feedback on this new design was very promising."
Anna says that 100 per cent of the students interviewed found the visual aids helped their learning, "'creating an expansion to the lesson", "made learning easy" and "encouraged us to look up words".
"The videos were uploaded week by week on a YouTube playlist," she explained.
"In the videos, two teachers (one native and one non-native) discussed linguistic, cultural and translational aspects of the syllabus of the course using mostly Spanish, and some English when explaining complicated phrases or grammatical rules.
"Student questions were collected and answered directly in our videos, so all students could see the answers.
"When the teachers used a new phrase/word, its appearance on the screen was purposely delayed slightly to encourage students to listen further and try to understand it in context.
"On top of the obvious listening comprehension benefits, this aspect promoted active learning.
"Equally importantly, students thought this teaching modality 'forces a sense of responsibility on the student, so it invites a consistent study approach'."
Anna is going to use the feedback gathered to improve other flipped lectures using this new style.
Image: Anna with Dr Raquel Bra Nuñez, who contributed to the flipped lessons
Tags
Groups

Education Quarterly