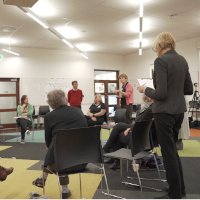 Wednesday, 18 December 2019
UWA's Master of Strategic Communication students have been starting conversations about family and domestic violence (FDV).
Earlier this year, students worked with UWA's WA Centre for Rural Health (WACRH) and numerous Geraldton-based organisations to heighten community understanding of FDV.
The collaboration was instigated by one of UWA's Communities of Practice: Using Family and Domestic Violence as a Lens to Understand Complex Social Issues .
Communication and Media Studies unit coordinator Associate Professor Helen Fordham said students created various communication strategies.
"Each organisation had its own particular focus and the students worked in groups to analyse the organisation, its stakeholders and demographics and devise viable campaigns that would raise community awareness of this complex issue," she said.
Organisations included Desert Blue Connect, a lead agency in the FDV primary prevention initiative; the Department of Local Government, Sports and Culture; Centacare; the City of Greater Geraldton and the WA Centre for Rural Health.
Students produced a diverse range of campaigns, from connecting with Geraldton school children, through to highlighting the importance of acts of kindness, and training sports coaches and young athletes to understand the relationship between violence and attitudes to gender.
Students identified the promotion of respectful work attitudes, supportive work policies and community awards as areas the business community and the City of Greater Geraldton could further express their commitment to the prevention of FDV.
Another group of students worked with UWA researchers to promote an online survey designed to measure community attitudes to, and experiences of, violence in Geraldton.
WACRH Director Professor Sandra Thompson praised the students' work in promoting the survey.
"The proposal helped us to think through elements of our campaign to promote the survey as broadly as possible and maximise responses. Good information will enable us to compare the results of what is happening in Geraldton with national data," she said.
The Master of Strategic Communication students were assisted by UWA Poche Research Fellow Heath Greville, who delivered a presentation on the extent of FDV in Australian communities and the primary prevention of family violence work occurring in Geraldton.
WACRH plans to host further media and communication student interns, in order to progress work in family and domestic violence.
Additionally, the Community of Practice is working with the McCusker Centre for Citizenship to deliver a 'Wicked Problems' unit, giving students opportunities to work together on solutions relevant to preventing FDV in Geraldton.
At a final Community of Practice event for 2019, students and staff will present work undertaken on the issue of FDV. Judges from the CoP will award prizes for the best student projects or research.
Tags
Groups

Education Quarterly