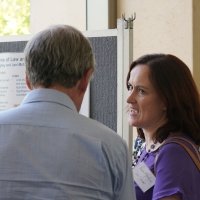 Wednesday, 18 December 2019
Restorative justice, women in science, and active learning are among the topics drawing UWA staff together to develop new ways of learning and teaching.
Since the establishment of 15 UWA Communities of Practice in January this year, more than 300 staff have participated in the multidisciplinary groups.
Communities of Practice are collaborative groups of people with a common interest, where knowledge is shared and developed through regular virtual or physical interaction. Being involved in a Community of Practice gives academic and professional staff an opportunity to share best practice across the University and outside their usual spheres – which gives everyone involved the chance to engage in an area they're passionate about, learn new ways to support learning and teaching, and build social and professional connections.
The Education Portfolio began the process of introducing Communities of Practice at UWA in October 2018. The model blended an organic and structured approach, striking a balance between areas of interest arising from areas staff were passionate about, and a structured development and support process facilitated by the Educational Enhancement Unit. Fifteen groups were successful in obtaining full or partial funding support for their Community of Practice.
UWA's Communities of Practice are focused, innovative and multidisciplinary, ranging in focus from how restorative justice practices can be adopted in the University through to how best practice in employability and work integrated learning can be adopted into the curriculum. The Communities of Practice have run lunch-and-learn sessions, full-day events and workshops, and symposia. They have developed work for publication in The Conversation and in peer-reviewed publications.
The impact of the Communities of Practice has reached across and outside the University. The groups have engaged with academic and professional staff, as well as with students, and external practitioners – including bringing external speakers to campus and facilitating UWA academics to visit and learn from other institutions.
Participating staff praised the opportunity to gain increased awareness of colleagues' passions, the chance to share best practice, and increased connection and collaboration across campus. The Community of Practice experience was described by one participant as inspirational!
Community of Practice leads displayed their achievements at the Poster Showcase of the 2019 Teaching Excellence Conference, alongside other leaders in Learning and Teaching at UWA. Their collected posters will also be available in the 2019 Teaching Excellence Showcase publication in the new year.
The Deputy Vice-Chancellor (Education) is delighted to announce that the funding to support the Communities of Practice will be extended into 2020 to enable them to continue their work. Congratulations to all the staff who contributed to the development and success of Communities of Practice at UWA in 2019.
Tags
Groups

Education Quarterly