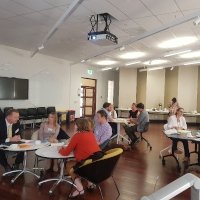 Wednesday, 18 December 2019
Fifty teaching and professional staff from across UWA are on track to become fellows of the Higher Education Academy (HEA).
The group will become the first UWA staff to be awarded fellowship through the Academy Fellowship Scheme (AFS) following UWA's accreditation from AdvanceHE in June 2019.
HEA fellowship provides professional recognition of individual academic and professional staff who: demonstrate excellence and experience in, and knowledge of, learning and teaching; have engaged with relevant professional development; and are committed to developing as educational professionals.
UWA began offering the Academy Fellowship Scheme (AFS) Dialogic Route in mid-June 2019 as a pathway to HEA fellowship.
Fifty nominated Senior Fellow candidates from the University's academic and professional staff undertook a series of interactions with the AFS team as part of the initial Dialogic Route pathway. These interactions included peer and group mentoring, and a series of information and reflective writing workshops, before the candidates submitted written applications and sat a dialogic assessment.
The UWA Teaching Excellence Conference provided a wonderful opportunity for UWA staff who have been recently recognised as Associate Fellows, Fellows, Senior and Principal Fellows to discuss their own application and mentoring. The day after the conference, visiting Principal Fellow of the HEA Dr Rosalind Duhs presented a well-attended Reflective Writing Workshop that provided a practical opportunity for potential candidates to work on their applications.
Dr Duhs stayed on at UWA as one of our external assessors for the UWA AFS Senior Fellowship Dialogic Assessments. Before a panel of three assessors, candidates explored how they met the criteria for Senior Fellowship through a formal conversation, informed by evidence and supporting documentation.
Forty-four candidates have completed the dialogic process and a further six candidates will complete the process early in 2020. Feedback from candidates has been positive; many have stated that the Senior Fellowship dialogic process has allowed them to reflect on their professional practice in teaching and/or supporting learning.
Candidates will receive the outcomes of their applications in early December and we look forward to welcoming our new UWA Senior, Fellow, and Associate Fellows of the Higher Education Academy in early 2020.
These newly recognised HEA Fellows will undertake mentor and assessor training to enable them to support colleagues through the Experiential Route to Fellowship, launching in 2020.
Tags
Groups

Education Quarterly