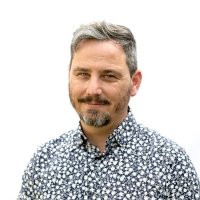 Wednesday, 18 December 2019
Empowerment. Inclusivity. Positive reinforcement. These may sound like trendy buzzwords but for Antony Gray , they're a philosophy by which he lives – and teaches.
The UWA Business School lecturer was recently nominated for an Australian Awards for University Teaching (AAUT) Citation for Outstanding Contributions to Student Learning award.
At UWA, he works primarily with students who speak English as an additional language, mature age students and students living with disabilities.
"I'm the Communication, Learning and Transition Coordinator for the Faculty of Arts, Business, Law and Education," he says.
"My award nomination is for the use of inclusive teaching principles to transform learning for traditionally 'at risk' students, facilitating their transition to higher education and empowering them to excel in their university education."
Antony was the first in his family to finish high school and, after studying music at WAAPA, spent 25 years as a professional musician playing, recording and touring with groups that included everything from jazz ensembles to indie-rock bands.
After leaving the professional music world (much to his parents' disappointment!), he began his UWA degree in English and Cultural Studies, and French. As a consequence, he understands the struggles students can face when they first enter the university classroom.
"University is like another country – there's a different language and different rules," he says.
"On top of this, our student population is becoming more diverse. In one of my units, roughly 24 per cent of students each semester identify as having a disability. That can mean anything – a medical or physical disability, post-traumatic stress disorder, social anxiety, attention deficit hyperactivity disorder, or another disability.
"This diversity can be particularly challenging in a unit where we model and teach group work.
"Traditionally, the dominant narrative is that when students don't fully participate in teamwork it's because they're lazy, but there are lots of reasons why someone might not participate fully – lack of confidence around their skills, language and cultural barriers, social anxiety, garden variety shyness.
"In my teaching, I find ways for students to empower themselves. I want them to motivate themselves and others to fully engage, to be more inclusive, to show leadership, to generally be more generous with each other."
While students are sometimes exempted from group presentations and other tasks for medical reasons, Antony always offers what he calls the 'parachute option'.
"The 'parachute option' means students have the option to keep going with the assessment as normal, but at any point they can stop and choose to do the alternative assessment instead," he says.
"Many students end up surprising themselves and doing a lot better than they expect. Some have even ended up with the highest marks in the class."
Antony's also a firm believer in positive reinforcement.
"Focusing primarily on rewarding positive behaviours is a pretty radical idea, especially if you grew up in an overly critical family environment or had bad experiences at school," he says.
"At university, we often assess students only in terms of what they get wrong – only seeing them through a deficit lens. Instead, in my current teaching practice, I've been trying to find ways to capitalise on what students get right and then leverage that to help them grow and push themselves further.
"It's also important to help students whose English skills may not be as strong – for example, by keeping lecture slides uncluttered so that students don't miss key words.
"I think students' attention is a precious resource and we are bombarding them with information, especially by email. They're overwhelmed. Students need us to help them navigate through that information and make it really clear what we want them to do."
He places an emphasis on transformational teaching, a philosophy that encourages treating each student as an individual with unique hopes and aspirations.
"We should be trying to help students realise their aspirations. All teaching is about change and it's a case of tapping into what students want to do with their lives and how our time together can be part of that process," he says.
"When you start out, you want to put so much into your teaching and be that amazing teacher students love. But over time, I've learnt it's more effective when I take a step back and allow space for students to be at the centre of the process – getting them to think, talk, write, share and engage with each other. Now it's less about me being the centre of attention and more about creating the conditions where we can create something meaningful together."
The winners of the Australian Awards for University Teaching will be announced at a ceremony in February 2020.
Image credit: Marnie Richardson
Tags
Groups

Education Quarterly