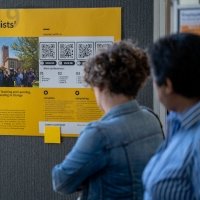 Wednesday, 18 December 2019
UWA's recent Teaching Excellence Conference and Showcase focused on building sustainability goals into the student experience, developing an employability framework and developing outcomes-based research learning in our curriculum.
Over 140 colleagues from various faculties, departments and centres joined our distinguished guest speakers for two full days of professional development, sharing of ideas and celebrating a successful year of learning and teaching at UWA.
The showcase poster presentation featured submissions from a number of our Flipped Classroom Grant recipients, our Communities of Practice teams and other key areas of the University. The poster presentations will be featured in an Educational Enhancement Unit publication due for release in January 2020.
We are delighted to share our guest speakers' presentation slides from the two-day event.
Geoff Scott , Emeritus Professor of Higher Education and Sustainability, Western Sydney University
Dr Dino Willox , Director of Student Employability, The University of Queensland
Dr John Willison , Senior Lecturer, School of Education, University of Adelaide
Dr Rosalind Duhs , Senior Fellow from the HEA and Higher Education Consultant
Jorn Are L , Learning and Development Strategist, LinkedIn Learning
Wendy Herdman, Senior Customer Success Manager, LinkedIn (no presentation available)
Dr Tine Köhler , Associate Professor for International Business, Department of Management and Marketing, University of Melbourne.
In our sustained commitment to teaching excellence at UWA, we are pleased to announce that UWA will be hosting the International Society for the Scholarship of Teaching and Learning (ISSOTL) conference, 27–30 October 2020. This prestigious event attracts local, national and international presenters and delegates who have a shared interest in supporting and fostering learning and teaching. Further information will be made available via the Educational Enhancement Unit in the upcoming months.
We look forward to welcoming you to this event next year.
Tags
Groups

Education Quarterly