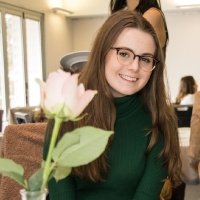 Wednesday, 18 December 2019
About Bre Shanahan
Bre grew up in Darlington, in the hills, and moved up to St George's College when she started at UWA in 2015. She completed her Arts degree in Political Science and International Relations, and started her Juris Doctor in 2018.
Her parents always told her she should study law because she liked arguing. Much of what has guided her through life is a sense of justice or fairness and she thinks that really epitomises what law is about (or at least what it should be). It turns out her parents gave pretty good advice because she's loved the degree so far.
Giving back to our community
Extracurricular activities are so important to me because they have really shaped the person I've become. I got involved in the YMCA WA Youth Parliament in high school and found it to be a really formative experience. It was the first time, as a young person, I felt I had been truly empowered to speak out about issues important to me and actually be heard. It opened my eyes to the different types of experiences young people across the State have had, and different ways we can solve the problems we face in our communities. I tend to credit Youth Parliament with helping me find my voice and my passion for advocacy for young people.
The real benefit of these experiences is it instils in you a desire to give back to your communities. I ended up volunteering at Youth Parliament for six years, and it led me to all sorts of other experiences, from getting involved at St George's College to youth mental health organisations to the UWA Student Guild.
This year I had the privilege of serving as Women's Officer for the Guild, and within that role I saw just how important the Guild is in providing students with a fun, engaging space to complement their learning while also fighting for their rights. That experience inspired me to take the leap of faith necessary to run the operation [Bre will be the UWA Guild President in 2020]. I wanted to continue my passion of fighting for the most marginalised voices, and given the increasing pressures placed on us from government cuts, I saw this position as the perfect fit to fully realise that passion. Working with a team of passionate volunteers to empower students is a challenge I'm really excited for.
My biggest drive has always been to give back. It's important for me to ensure others are afforded the same access to the institution as I've had since first year. Running for Guild President was an extension of giving back to a university culture that has given so much to me. The Guild has always been a really welcoming space for me to enact new, exciting ideas and I can't wait to put my stamp on the role in 2020.
Education at UWA
I have absolutely loved my time in the Law School because I've been really inspired by the intelligent and strong women in that space. The teaching staff really care about us and put in a lot of effort to ensure we're prepared heading into the JD and beyond.
Something that we (the Guild) would really like to focus on next year is ensuring we are providing enough support to students from different backgrounds, whether that's low SES, Broadway or Fairway. Too often the pressures placed on students who live further away, have to work multiple jobs to make ends meet, or have structural disadvantage are ignored. We want to make sure their voices are heard through the introduction of the Student Equity Department, which will provide these people with a platform to headline their own changes. On a larger scale we want to expand the class rep system devised this year to give all students a clearer voice on how their degrees can be shaped to best address their needs.
We also recognise the time pressures students face regularly to balance study with all other elements of their lives. Ensuring students are able to get that access is of paramount importance to us, and a challenge that is constantly evolving. Therefore, we really want to focus on pushing for a second week of study break each semester so students can find time to achieve to the best of their abilities.
We are really focused on providing students with a whole host of improvements to increase their quality of life while at university. These include fighting to reduce late penalties to a uniform five per cent and improving the special consideration process. The more avenues students are given to balance all commitments, the greater they flourish in their quality of work.
We also have listened to students who want their degrees to make them work-ready. We want to increase work integrated learning so you know that what you're learning in theory, can be applied in good faith when you enter the workforce. Greater variation in what the University provides as a service is an important improvement I'd really like to enforce in my term next year.
UWA prepares students for the world
I feel immensely proud to have spent my time at UWA. I've always felt that the opportunities gained through the University have best placed me to succeed in whichever career I choose on the horizon. In my time at UWA I have fostered vital networks and connections in a wide variety of sectors and spaces from advocacy to women in business and legal professionals. UWA's focus on diverse learning strategies has allowed me to be more confident in varying environments, to think on my feet and be flexible to changing circumstances. I am confident the past six years at this University have best placed me for the big wide world ahead!
Tags
Groups

Education Quarterly