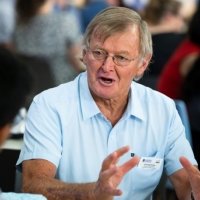 Wednesday, 18 December 2019
Now in my last few months as Warden it is appropriate to briefly reflect on what Convocation Council has achieved over the last year, maybe even a little on the three years as Warden.
Warden's Role
Anyone who takes on this position will find a challenge with many demands on time but equally many opportunities to work towards change for the better for the University and Graduates. The first challenge is to see Convocation itself and the graduates more generally as the critical supporting network for the University. I have just spent a week at Graduations, welcoming new graduates at ten ceremonies, and at each of those recognising that there are about 130,000 of us out there. It's an impressive number that is one of the greatest assets held by UWA.
The personal friendships and collegiality that are built towards graduation from UWA are long lasting and they will endure far longer than institutional connections. I continue to promote that message that the real connections through individuals, clubs, societies and so on are incredibly valuable to the University. It's a big message that for those for whom the same connections were built remotely from UWA seem hard to appreciate to their full.
I believe I have done a reasonable job as Warden but did not arrive in the role because of any alumni program. I was invited by friends to have a go and that is what counts. The network will provide the people who are convinced they can do something of value to UWA.
Council
Working with Fiona Allan in her role as Acting Chief Advancement Officer we are trying to bring Council closer to the staff in Development and Alumni Relations, the main staff group with whom Council and Committee Chairs work. It's been a slow process but a getting to know each other's function is planned for the New Year and we can progress from there.
Council met eleven times during the year and its subcommittees were active.
Mr Tayyeb Shah has been in place as the new DVC Global Partnerships for several months now and has attended several Council meetings, as well as meeting regularly with the Warden and Deputy Warden. We have been encouraged by his approach to working together.
It is worth mentioning that Council has been prominent in discussions for topical; items for the University, hosting an Open Day at Forrest Hall for the Forrest Research Foundation, and questioning process and progress on the ongoing review of the UWA Publishing.
Professor David Sadler provided one of the features for the year at the November Council meeting when he outlined some of the education and associated financial challenges for UWA, leaving us with a call for Convocation – our graduate members assistance to:
Improve perceptions of UWA's industry connectedness?
Improve perceptions of UWA preparing students well for their first job?
Increase awareness and understanding of Perth via UWA graduates?
At the December meeting, Dr Nin Kirkham and Dr Jamie O'Shea of the UWA Academic Staff Association (ASA), introduced Council to how we can work with the ASA to the benefit of the University.
Mr Conrad Hogg, President of the Student Guild and Mr Alex Tan, President of the Postgraduate Students Association were regular attendees at Council meetings.
Dr Angela Evangelinou-Yiannakis took a key role in the important UWA Freedom of Expression Working Group and was praised by the Vice-Chancellor for her contribution.
Council Sub Committees
Council is served by several sub-committees including:
Awards;
Governance;
Engagement;
Events;
Honours; and
Review.
All committees made useful progress during the year, with a very successful Awards process and ceremony, huge progress in reviewing the Convocation Statutes, increasing numbers on Convocation's LinkedIn Group and progress with local to national level honours for our members.
The Review Committee is positioning Council and Convocation for its future work and interactions with the Senate and staff of the University.
All chairs are to be congratulated on their work for Convocation.
Statute Review
The Statute Review was required after the recent revision of the UWA Act and the decision to include the coverage of all existing Statutes in a single UWA Statute. It was a massive job and would not have been possible without the voluntary help by members Mr Patrick Tremlett and Mr Greg Calcutt AM, who helped to make the statute far more relevant and valuable for Convocation in the future.
It was estimated that well over $100,000 of voluntary time was contributed to this statute review. Special thanks must go to Mr Jonathan Strauss who chairs the Governance Committee and led the review process, and to Greg Calcutt AM, whose dedication, knowledge and skills were invaluable.
Events
Convocation Day
Convocation Day was successful in early March and is slowly generating an avenue of Convocation trees alongside James Oval. Conrad Hogg planted his tree in 2019 as the 106th President of the Student Guild.
Ordinary Meetings
Both Ordinary Meetings were attended by around 250 members. Reports were well received, and the Q&A Panel has continued to work well on the basis of most questions being "On Notice".
Awards Ceremony
A very successful Convocation Awards Ceremony saw about $100,000 worth of scholarships and awards presented to a high-class field of student applicants.
A highlight was the presence of the late Clinical Professor Alex Cohen AO at one of his last public events.
Senate Dinner
The Senate Dinner gave an opportunity to highlight the way the Convocation Council can interact with the other major parts of the University and to spend some pleasant time, sharing thoughts with members of the Senate.
Executive Interaction
Regular meetings were held across the year with members of the Executive, although some of those planned were cancelled by the Executive team, and not necessarily replaced.
Convocation Staff
Appreciating the heavy voluntary load carried by the senior members of the Convocation Council, we worked hard to be able to make a part time appointment to provide extra support for out of hours meetings, and for the Convocation Officer in her regular duties. Mr Kris Bather has completed this role in excellent fashion as did Ms Melissa Hetherington in 2019. Council cannot function without sufficient office support and takes the funds for this position from its General-Purpose account.
Conclusion
There is much more that could be written but there are many other things to do in a life that must include more than Convocation.
My thanks go to all Councillors who have given so much in the past year, to the many UWA staff with whom we have worked successfully over the last year.
To our departing Vice Chancellor Professor Dawn Freshwater, we send the best wishes from all Convocation members. Equally so to Professor Robyn Owens who has stepped down after many years in her role as Deputy Vice Chancellor Research, and to Professor Wendy Erber who has completed a wonderful term as Dean of Health and Medical Sciences.
To all Convocation members I extend wishes for a very Happy Christmas and I encourage you to retain and build your interest in Convocation as you enjoy success in your New Year.
Next year we will have a bulletin and a flag. Look out for that.
Doug McGhie
Warden
Media references
Convocation of UWA Graduates - Email: [email protected] , Tel: +61 8 6488 3006
Tags
Channels

Alumni — International — Regional

Groups

Convocation Conversations