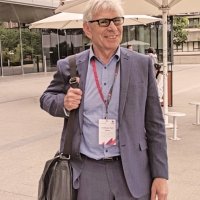 Wednesday, 18 December 2019
The University of Western Australia (UWA) Adjunct Professor, Yuri Estrin, has been elected into the prestigious Russian Academy of Sciences (RAS) as its foreign member, in recognition of his distinguished service to science, and career achievement.
An internationally acclaimed engineer and world-class authority on materials science and engineering, Professor Estrin develops his research on biodegradable implant materials and the so-called 'architectured' materials, a new class of composites where the mutual arrangement and topology of the constituents provide additional possibilities to unlock new functionalities and properties, here at UWA.
Professor Estrin and his family migrated to Western Australia in 1992, where he became professor in the UWA Department of Mechanical and Materials Engineering. Since then, Estrin has held the chair in Physical Metallurgy at Clausthal University of Technology in Germany and joined the Department of Materials Engineering at Monash University in Melbourne as Professor and later Director of the Centre for Advanced Hybrid Materials.
Professor Estrin said he was very proud of the achievement.
"It is an honour to be elected into the Russian Academy of Sciences as its foreign member. RAS is one of the most prestigious academies in the world, and the list of its foreign members is very impressive. There are only a handful of Australian scholars on that list of about 300 foreign members," said Professor Estrin.
Throughout his career, Professor Estrin has received international recognition for his scientific achievements, including Humboldt Awards, a Staudinger-Durrer Lecture at the Swiss Federal University of Technology, a World-Class University professorship at Seoul National University, and a Helmholtz International Fellow Award from the Helmholtz Association of German Research Centres. Professor Estrin is also a Fellow of the Australian Academy of Science.
The Russian Academy of Sciences was established by order of Peter the Great, in 1724. It was recreated in 1991 as the highest scientific institution in Russia.
Media references
Adj/Professor Yuri Estrin (UWA Faculty of Engineering Mathematical Sciences) [email protected]
Lauren Humfrey (UWA Faculty of Engineering Mathematical Sciences) (+61 8) 6488 2260
Tags
Channels

Appointments — Awards and Prizes — International — Research

Groups

Faculty of Engineering and Mathematical Sciences