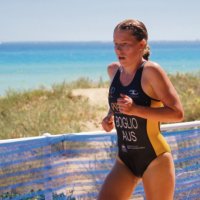 Tuesday, 17 December 2019
UWA student athletes Jonathan Sammut and Cassia Boglio were crowned WA State Sprint Triathlon champions on Sunday morning at Whitfords Nodes Park in Hillarys.
The Elite Men's field was the first to tackle the 750 meter swim, 20 kilometer ride, and 5 kilometer run course.
Sammut exited the water in second position, took the lead on the bike, and never looked back on the run to claim his first WA State triathlon title in front of an enthusiastic crowd.
"I knew I needed to make a big gap at the beginning of the bike and I was just trying to hold it. I went as hard as I could and thankfully that was enough to get the win," said Sammut after the finish.
22-year-old Sammut came into the race unsure about his bike and run form after battling a knee injury in the last couple of months, but managed to hold off a field of world class athletes.
"To be honest, when I saw the startlist I was a bit taken back. This is probably the best field that Perth has seen in a really long time. I am so stoked," said Sammut.
Rio Olympian Ryan Bailie finished second, almost a minute behind Sammut. Bailie returned from his off-season in Hillarys and aims to qualify for the Tokyo 2020 Olympic Games in the upcoming months.
Matt Burton showed he pulled up well from his second place finish at IRONMAN Western Australia two weeks ago by becoming the third WA athlete to cross the line in the State Championship. Pro-cyclist and national time trial champion on the road Luke Durbridge finished ninth.
In the Women's race it was 19-year-old Boglio who led from start to finish to win her first WA State triathlon title in the Elite category.
"I wanted to make the race my own and go at my own pace. It was my first non-drafting race in about two years, so I was happy to get it done and execute things well," said Boglio.
As her competitors started to struggle with the hot temperatures on the run, Boglio kept her cool and held off Madison Toovey and Brooke McCoy who finished second and third respectively.
"I much prefer racing when it's hot. I find I race a lot better when it's getting towards 40, so I didn't really mind. I have just been staying really hydrated the last few days," said Boglio.
Elite and age group triathletes get the chance to race for the WA State title over the Olympic distance on Sunday 16 February 2020 in Bunbury.
Media references
Originally published by Triathlon WA
Louis Humberstone
UWA Sport Marketing, Communication and Events
6488 4309
Tags
Channels

Sport

Groups

UWA Sport