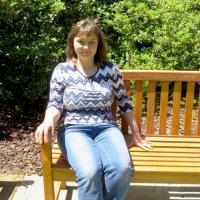 Friday, 13 December 2019
Congratulations to Associate Professor Natalia Maslova on being awarded this year's Cheryl E. Praeger Visiting Research Fellowship.
Natalia Maslova is an Associate Professor at Ural Federal University and a Leading Researcher at the Krasovskii Institute of Mathematics and Mechanics, Ural Branch of Russian Academy of Sciences.
Natalia's research focusses on group theory and combinatorics. During her time at UWA she worked on two joint mathematical projects that were devoted to computational group theory with Emeritus Professor Cheryl E. Praeger and Professor Stephen Glasby, and with Professor Alice Niemeyer. She has also given two lectures as part of the 2019 Groups and Combinatorics Seminar series, "On Gruenberg-Kegel graphs of finite groups" and "On pronormality of subgroups of odd index infinite groups". Additionally, she volunteered at the Western Australian Junior Mathematics Olympiad (WAJO).
The Cheryl E. Praeger Visiting Research Fellowship is intended for visits to UWA by researchers in algebra and combinatorics, who are early in their careers and who will enhance collaboration at UWA through their research and public lectures.
The fund supporting the Fellowship was established with an initial donation from Cheryl Praeger, comprising prize monies from her various awards including 2009 Western Australian Scientist of the Year, 2012 Office for Learning and Teaching Citation for Outstanding Contribution to Student Learning, UWA award for highly cited researchers, and other research allocation funds.
Media references
Leah Worthington (Faculty of Engineering, Computing and Mathematics) (+61 8) 6488 5079
Professor Cheryl Praeger (UWA School of Mathematics and Statistics)
Tags
Channels

Research — Teaching and Learning

Groups

Faculty of Engineering and Mathematical Sciences