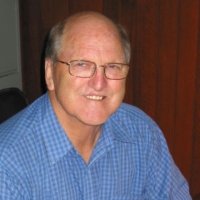 Tuesday, 10 December 2019
Emeritus Professor André Morkel played an important, formative part of the UWA Business School. We share below an excerpt from Professor Geoff Soutar's eulogy for Emeritus Professor Morkel:
André joined UWA in 1976 as Professor of Commerce but soon became the first Head of the Management Department and Director of the MBA program, which was the love of his academic life. He also began UWA's executive development program that is still contributing. Few people have left two programs that still impact so positively after so many years.
But André was much more than a Head. He was a stunning teacher who made students think for themselves. I can still see the look on students' faces when they suddenly realised they knew what André had been leading them to see. This influence on so many who went onto senior positions should not be underestimated. André influenced WA and Australia through the quality of his teaching of so many students. He left a huge legacy for all of us.
André was also more than a Head and great teacher. He was a wonderful strategist, who understood how organisations made decisions and how decision-making might be improved. He influenced many organisations directly, as well as indirectly through his students. He was as comfortable on St George's Terrace as he was on the Crawley campus and his impact was felt strongly in both places.
This understanding of strategy was also evident in André's writing. He was ahead of his time in the ways he looked at strategy and it took years for the rest of us to catch up. He wrote clearly and succinctly on many topics but all related around organisations and how they might prosper. Those who listened well tended to prosper. Those who didn't listen well probably wished they had.
There is a room in the Business School building named in his honour and, fittingly, it is in the MBA quarter. I wish today's MBA students had had the opportunity to hear André and learn from him. They would have learned a lot and been better for the experience. André was a great academic, but even more importantly, a really good person who will be sorely missed by family, friends and so many past students and colleagues.
Tags
Groups

eBiz