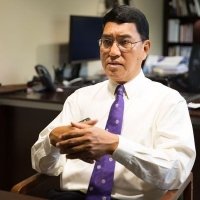 Tuesday, 10 December 2019
The Senate of The University of Western Australia has appointed Professor Amit Chakma as its next and 19th Vice-Chancellor commencing in July 2020. On 30 June this year Professor Chakma completed his second term and 10th year as President and Vice-Chancellor of The University of Western Ontario.

Prior to that time he served from 2001 to 2009 as Vice-President (Academic) and Provost of The University of Waterloo in Canada.

Professor Chakma was Inaugural Chair of the U15 Group of Canadian Research Universities.  He has served as Chair of the Canadian Government's Advisory Panel on Canada's International Education Strategy, helping guide the development and launch of the Strategy in 2014.

He is a past Chair of the World University Service of Canada and a past member of the Science Technology and Innovation Council of Canada. He has a solid record of achievement in senior leadership roles at both universities. At the University of Western Ontario he led a research-intensive university of more than 30,000 students, 2000 academic and professional staff and a budget in excess of $1 billion.

Professor Chakma has a substantial record of research. He is a Professor of Chemical Engineering and holds a Master of Applied Science and a PhD in Chemical Engineering from the University of British Columbia.  His research has covered greenhouse gas control technology, energy and environmental model system modelling, petroleum waste management, gas separation and processing and mass transfer.

UWA Chancellor, Robert French AC, said the appointment by the University Senate was based on Professor Chakma's high level and wide-ranging skills and, importantly, his whole of institution expertise as a leader who has set and shaped direction and built a strong culture to sustain it.

"Professor Chakma comes to UWA with demonstrated success in developing high quality teaching and learning while building research capability and important partnerships across academic, government and industry sectors," Mr French said.  "He is committed to combining research excellence with outstanding student experience.
"He has proven commercial acumen and intellectual capacity and has also demonstrated a strong commitment to diversity and equity in access to higher education.

"Professor Chakma's appointment brings to UWA a person with a proven track record who has the necessary combination of experience, skills and capacity to lead the University at this important time in its history."

Professor Chakma said that before his official July 2020 start he planned to visit UWA several times to meet with colleagues and community leaders, to learn and to seek counsel.

"I am honoured to have been given the privilege of leading The University of Western Australia, one of the world's great institutions," he said.

"I am inspired by UWA's mission, vision and values, and energised by its strong desire to pursue excellence and am very much looking forward to working with students, faculty, staff, alumni and partners in the broader community as well as governments, to help guide the University to even greater heights."

Professor Chakma said that he and wife Meena had visited Australia frequently over the years, for work and to stay with family, and were eager to join the UWA community and to make Perth their new home.

Mr French paid tribute to outgoing UWA Vice-Chancellor, Professor Dawn Freshwater.

"Professor Freshwater, who leaves UWA on 13 March 2020, does so with the thanks and best wishes of the Senate," he said. "Appointed as Senior Deputy Vice-Chancellor in 2014, she has led a process designed to transform the University's structure, services and systems to better place it in the years ahead.

"She continued pursuing that purpose from her appointment as Vice-Chancellor in 2017 with the framing of a vision for the next decade - UWA 2030, as well as the enabling 2020-2025 Strategic Plan.

"Professor Freshwater has established a foundation upon which her successor can build and we wish her well in her next appointment as Vice-Chancellor of the University of Auckland."

An interim Vice-Chancellor will head the University during the period March to July 2020 and will be announced in due course.
Media references
David Stacey (UWA Media Manager)                                          08 6488 3229 / 0432 637 716
Tags
Channels

Appointments — International — Media Statements — University News

Groups

Faculty of Arts, Business, Law and Education — Faculty of Engineering and Mathematical Sciences — Faculty of Health and Medical Sciences — Science Matters — The Albany Centre