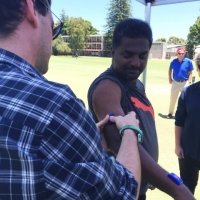 Monday, 9 December 2019
Sri Lankan spin bowling legend Muttiah Muralitharan (Murali) has visited The University of Western Australia for an update on the technology that cleared his unorthodox bowling action in the late 1990s, resulting in him becoming the world record holder for the most wickets taken in both Test and one-day cricket.

"I've been tested here (at UWA) five or six times," Murali said. "Every time there is a problem I come here and test, so the facility year by year is improving. They are still developing, for a new generation, how to overcome these problems."

Murali was at UWA with Kushil Gunasekara, founder and chief trustee of his charity the Foundation of Goodness , to help the UWA team test the current version of the wearable technology, which can now be used to monitor other young bowlers to protect them from injury by helping them change the way they bowl.
The UWA Sports Biomechanics Group has a 45-year history in understanding the relationship between bowling technique, injury and improved performance.

The team established the biomechanical models and protocols used to assess the legality of bowling actions for the International Cricket Council, which saw many of the world's premier bowlers tested at UWA from 1995-2014 including Murali Muralitharan, Shoaib Akhtar, Johan Botha and Shoaib Malik.
What isn't widely known is the UWA team's findings resulted in the banning of many more players than it cleared during this period, with one effect being a concerted effort to develop field-based technology that would help junior bowlers before their actions were called into question.

A key driver for the team was the desire to create technology to minimise injury risk in junior bowlers. For the past eight years the UWA group, in collaboration with world wearable sensor experts Professors Andrea Cereatti and Valentina Camomilla, has focused on developing wearable technology that can used at training to give immediate technique feedback about injury risk and performance. The small wearable sensors are also synchronised to video to provide recorded visual feedback.

Senior UWA biomechanist Professor Jacqueline Alderson said it seemed a natural extension to reach out to Murali when her team needed to test the technology, given their long-term relationship and the fact that no one in the world could test the capacity limits of the technology like he could.

"We are delighted and privileged that Murali is so enthusiastic about helping young bowlers develop their skills and that he is keen to be involved as brand ambassador for the technology once fully developed," Professor Alderson said.

"In 2014 we intentionally moved away from the more punitive legality assessments that we had undertaken for nearly two decades, to creating technology that could be used in the field by anyone looking to improve their bowling action and reduce their injury risk – especially back injury in junior bowlers."
Media references
David Stacey (UWA Media Manager)                                          08 6488 3229 / 0432 637 716
Tags
Channels

Events — Media Statements — Research — Science — Sport — University News

Groups

School of Sport Science, Exercise and Health — Science Matters