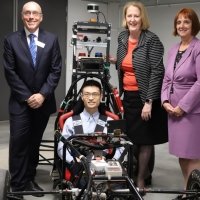 Thursday, 5 December 2019
A new centre to carry out road safety research is being established at The University of Western Australia, which has been awarded the State Government's $4.6 million road safety research contract for the next five years with support from the Road Safety Commission.
The new Western Australian Centre for Road Safety Research will be located in UWA's School of Population and Global Health and will bring together a multi-disciplinary team to deliver research on key impacts affecting road safety in WA.
Road trauma is one of WA's biggest public health issues with one person, on average, admitted to a WA hospital every four hours as a result of road trauma. In 2018, 159 people lost their lives on WA roads, and around 2000 more suffered injuries, some life-changing.
The UWA-led research centre will play a pivotal role in supporting the WA State Government's "Towards Zero" road trauma strategy.
UWA Pro Vice-Chancellor (Research) Professor Andrew Page said the centre would bring together world-leading scientists in fields such as health sciences, psychology, economics, engineering, mathematics and statistics.
"We are delighted to receive support from the State Government to develop a centre to carry out vital research designed to provide the evidence needed to make our roads safer," Professor Page said.
"UWA's School of Population and Global Health is one of the leading public health schools globally and is well-placed to carry out this research with important connections to industry, research and government."
"It is clear that new and innovative insights are needed to understand the changing nature of crashes, driver behaviour and the safety of our infrastructure. The new centre will support State Government strategies to address existing and evolving road safety challenges."
Road Safety Council Chairman Iain Cameron said thorough research provided a strong foundation for road safety policies and strategies and enabled the Road Safety Council to provide recommendations to the Minister for Road Safety informed by evidence.
"The work of the Western Australian Centre for Road Safety Research will help reduce the number of people killed and seriously injured on our roads during the next five years, and beyond," Mr Cameron said.
"The ripple effect of any fatal or serious road crash is enormous; it's a traumatic experience for responders, families and friends.
Sound data, analysis and research informs our advice, actions, programs and campaigns that ultimately will help make our roads safer. The new Western Australian Centre for Road Safety Research will play an important role."
Media references
Jess Reid (UWA Media and PR Adviser) 08 6488 6876
Claire Thomas (Acting Manager Strategic Communications, Road Safety Commission) 0467 802 855
Tags
Channels

Business and Industry — Media Statements — Research — Science — University News

Groups

Faculty of Engineering and Mathematical Sciences — Faculty of Health and Medical Sciences — School of Population Health