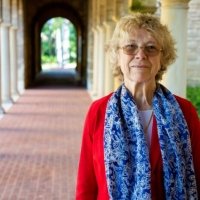 Wednesday, 4 December 2019
Prime Minister's Prize for Science winner Professor Cheryl Praeger is among several researchers at The University of Western Australia to be awarded $12.2 million in Federal Government funding for 27 projects.

The projects, ranging from Western Australian legacies of British slavery to working out who's who in the plant gene world, are funded under the Australian Research Council (ARC) Discovery Project scheme .

Professor Praeger and Dr Alice Devillers, from the Centre for the Mathematics of Symmetry and Computation, received $400,000 over three years for a project that examines exceptionally symmetric combinatorial designs.

Professor Praeger said combinatorial designs underpinned modern technological tasks such as web searches and error-correcting codes for data transmission and data compression, as well as structured scientific experiments.

"Designs with high symmetry guarantee additional balance and regularity, yielding greater power and efficiency in these applications," she said. "We anticipate that our project will bring new fundamental conceptual advances in design theory to improve methods for studying designs with symmetry, to find new design constructions, and to classify various families of designs."

Wesfarmers Chair in Australian History Professor Jane Lydon, from UWA's School of Humanities, has been awarded funding for two separate projects.
Professor Lydon is leading a research group awarded $501,000 over three years to investigate the ways that visual images have defined, contested and advanced ideas of Australian citizenship and rights from European settlement to the present.

Given that Australia didn't have a strong tradition of citizenship, the research team would focus on visual sources such as photos and media to explore the concept over time, Professor Lydon said.
"We'll be working with the Immigration Museum in Melbourne, as well as collaborating with media organisations and communities to develop education packages, an exhibition, and policy outcomes," she said.
"We hope that this visual approach will make this issue more accessible to the wider community and will prompt debate about what it means to be an Australian citizen."

Professor Lydon will also lead a research group that's been awarded $660,000 over three years to rewrite Australian history by revealing the hidden story of our links to British slavery.

By exploring the movement of capital, people and attitudes from slave-owning Britain to WA before and after the time of the abolition of British slavery in 1833, the project aims to reveal slavery's Australian legacies.
"Our project aims to communicate this new history to a mainstream audience through an online exhibition at the Australian National Maritime Museum," Professor Lydon said.

"The exhibition will include an innovative digital mapping tool, new biographical methods, archival research and analysis."
Media references
Simone Hewett (UWA Media & PR Adviser)                                                            08 6488 7975
Tags
Channels

Media Statements — Research — Science — University News

Groups

Centre for the Mathematics of Symmetry and Computation — Faculty of Arts, Business, Law and Education — Faculty of Engineering and Mathematical Sciences — Faculty of Health and Medical Sciences — Humanities — Science Matters