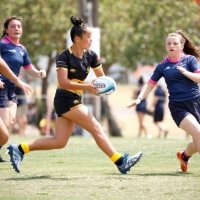 Wednesday, 4 December 2019
The future of women's 7s looks strong in Western Australia, after the WA Youth 7s Girls have came away with the bronze medal at the National Youth 7s.
Eight of the twelve players were also a part of the inaugural Team UWA that competed in the Aon Uni 7s competition earlier this year.
Continuing their meteoric rise, Reuben Cherrington, Tamika Jones, Brooklyn Joyce, and Nicole Ledington all put in match-winning performances as the WA Girls stormed to the semi-finals.
Unfortunately missing out on the finals after going down to Queensland, the team beat NSW II with a last minute try to seal bronze.
Full results:
Round 1: RugbyWA 56 def RugbySA 0
Round 2: RugbyWA 39 def Northern Territory 0
Round 3: Queensland I 36 def RugbyWA 0
Round 4: RugbyWA 29 def Queensland II 7
Semi-Finals: Queensland I 37 def RugbyWA 5
Bronze Final: RugbyWA 17 def NSW II 12
Media references
Louis Humberstone
UWA Sport Marketing, Communication and Events Coordinator
6488 4309
Tags
Channels

Sport

Groups

UWA Sport