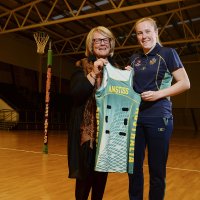 Monday, 2 December 2019
Elsma Merillo's incredible playing and coaching career has been formally recognised, after she was inducted as a member of the Netball Australia Hall of Fame on Saturday evening.
Merillo has made a significant and lasting contribution to netball as a player, coach, administrator and volunteer for more than 50 years.
On the global stage, Merillo represented Australia from 1966 to 1971, including the 1967 World Tournament in Perth and the 1971 World Tournament in Jamaica.
She represented Western Australia at a junior level three times between 1962 to 1964, at an open level from 1965 to 1970 and again in 1974 and 1979, captaining the side on two occasions.
A former UWA Sport Star of the Year, Merillo was also awared a Full Blue for Basketball in 1969.
In the coaching realm, Merillo was the Head Coach at the Western Australian Institute of Sport (WAIS) from 1989 to 1992, including leading the WAIS Gold in the national Mobil Super League in 1992. She was also the Head Coach of the Open State Team between 1990 to 1992 and the 19U State Team in 1994.
One of Merillo's most significant achievements was her involvement in the development and implementation of the West Australian Netball League in 1989. She served as coach of the Coastal Sharks in the West Australian Netball League from 1990 to 1996, with the team making regular appearances in the Grand Final, which included one premiership.
Internationally, she was the Australian Institute of Sport Satellite Coach from 1987 to 1989, and again in 1991. Merillo was also a National Apprentice Coach to Joyce Brown in 1992 and 1993, as well as the Australian B Coach for the Tour of New Zealand the following year.
Her resume also displays numerous achievements as an administrator: a WAIS Board Member from 1993 to 2004, she also served as a Netball WA Board Member, awarded Life Membership in 2016 and was a recipient of the Service to Sport Award at the 2017 RAC SportWest Awards.
Netball WA CEO, Simon Taylor, said the Netball WA community was incredibly proud of Merillo's achievements.
"Elsma has made a significant contribution to netball, not only in Western Australia but also on the National and International stage," said Taylor.
"Her service to netball is something we are indebted to as a sport, and we are so pleased to see Elsma's achievements recognised by Netball Australia."
Media references
Originally published by Netball WA, 30 November 2019
Louis Humberstone
UWA Sport Marketing, Communication and Events Coordinator
Tags
Channels

Sport

Groups

UWA Sport