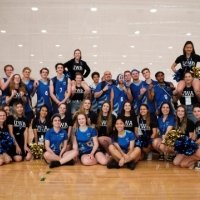 Friday, 29 November 2019
With all intervarsity competition now complete for 2019, UniSport has released the final standings for the year.
The University of Western Australia was named West Overall Champion University, as well as West Overall Per Capita Champion.
These awards reflect the success of Team UWA, particularly at Nationals Div 1 and Div 2, winning medals in multiple sports including fencing, volleyball, and cheer & dance.
The University of Sydney was named overall champion, after a tight battle at the top end that came down to T20 Cricket, the final event in the UniSport calendar.
After another successful year of competition on the Gold Coast, Div 1 and Div 2 Nationals will be held in Perth in 2020.
The Div 1 and Div 2 Nationals will run concurrently from 26 September to October 2 and attract approximately 6,000 interstate participants and over 1,000 participants from local universities.
Congratulations to all Team UWA student athletes who contributed to the effort!
Media references
Louis Humberstone
UWA Sport Marketing, Communication and Events Coordinator
6488 4309
Tags
Channels

Sport

Groups

UWA Sport