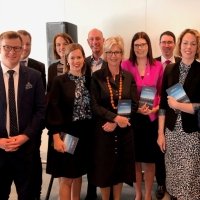 Friday, 29 November 2019
The University of Western Australia Public Policy Institute (UWA PPI) today launched its latest publication, Let Every Stage Advance: Policy Ideas for Australia's Fiftieth Parliament , at Parliament House in Canberra.

Professor Dawn Freshwater, Vice-Chancellor of the University of Western Australia and Chair of Australia's Group of Eight leading research-intensive universities, described the books' essays from newly elected Federal politicians as 'policy ideas whose time is yet to come'.

"This is an advance preview of the policies that will shape our future. We are looking at the issues that will unite and divide us in elections down the track," Professor Freshwater said.

Labor's Kate Thwaites, elected as the Federal member for Jagajaga in 2019, writes of the need for the kind of journalism that exposes what some would rather keep hidden, arguing for tax incentives for public interest journalism.

NSW Greens Senator Dr Mehreen Faruqi, elected in 2018, has issued a call to guarantee free TAFE and university education for all Australians throughout their lives.

Victorian Liberal Senator David Van, elected in 2019, argues that 'policy challenge number one' is 'getting an energy mix that is at once reliable, cheap and with no or low emissions'.

The publication also includes essays from Tim Ayres, Raff Ciccone, Patrick Gorman, Helen Haines, Matt O'Sullivan, Alicia Payne, Marielle Smith and Amanda Stoker.

Laurence Coleman, editor of Let Every Stage Advance , said that the contributors might well be Cabinet ministers or party leaders 15 years from now.

"We need to know what they are thinking about," Mr Coleman said. "For better or for worse, they will be making the decisions that change our nation."

Professor Shamit Saggar, Director of UWA PPI, said that it was important that politicians and public policymakers had the best possible evidence base.

"UWA PPI acts as a bridge between academic research and government, public and business needs," Professor Saggar said.
Media references
Simone Hewett (UWA Media & PR Adviser)                                                08 6488 7975
Laurence Coleman (Editor, Let Every Stage Advance )                                  0428 041 434
Tags
Channels

Business and Industry — Events — Media Statements — University News

Groups

UWA Public Policy Institute