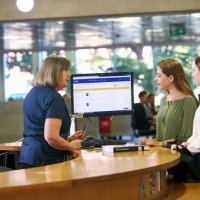 Thursday, 28 November 2019
The University Library will be working on a number of improvements over Summer 2019-2020, with new services and spaces to be offered from Semester 1 2020.
The Barry J Marshall Library Third Floor will be partially refurbished, with around 50 new study spaces on the Third Floor. At the same time, the whole of the Third Floor will become a dedicated space for UWA postgraduate students, with campus card access required at entry. The floor will remain a silent zone. Marshall Second Floor will be enhanced with additional power points to improve the experience for students bringing their own devices to campus.
Due to a chronic shortage of space at the UWA Conservatorium of Music, the Wigmore Music Library space will be repurposed for music practice and performances and will be renamed Wigmore Studio. Music collections and listening stations will relocate to Reid Library's Third Floor in January 2020 and dedicated music librarians will continue to support students from the Reid Library. This change will result in improved access to the Music collection, with long opening hours at Reid throughout the year, including 24/7 access at peak times of semester, and a greater number of study spaces on offer.
A number of other space improvements will also be delivered during Summer 2019-2020:
Upgraded collaborative study spaces at EDFAA Library.
New Reid Library Parents Room , providing convenient facilities for parenting students to study whilst caring for children.
In addition to upgrading spaces, we are also working on new services to offer students in 2020. Many of these services are based on your feedback , gathered in the 2019 Library Student Survey.
New high-powered student PCs will be replacing the current fleet of library PCs in early 2020. The new PCs will offer a comprehensive suite of software, and an improved hardware experience, including the capability to plug in a BYO device and utilise the monitor as a second screen.
Students will now receive convenient SMS alerts regarding overdue loans, recalled items and items on hold at the University Library. We hope this convenient service will help students manage their loans and avoid any overdue fines. (We'll still send email notice as well!)  Students can opt out of receiving SMS if they choose to.
New loan service for extension cords, multi-jack charging cables and headphones.
Group study rooms will be bookable in half hour increments, offering greater flexibility and more opportunities to book a space to work in a group.
Here's what you'll need to know if you're visiting us over Summer:
Marshall Library Third Floor closed 18 November 2019 to 2 December 2019.
All libraries closed for Christmas break from 20 December (12 noon), reopening Monday 6 January 2020 (with the exception of the Wigmore Music Library – services relocating to Reid Library from 6 Jan 2020).
Reid Library Third Floor – some noise and areas off limits during December 2019 and January 2020.
Please send any questions or comments to AskUWA . You can follow our progress via Facebook and Twitter .
Media references
University Library +61 8 6488 7425
Tags
Groups

University Library