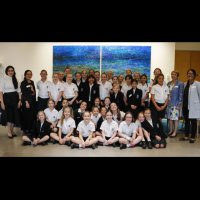 Wednesday, 27 November 2019
Over 40 Year 5 students from Presbyterian Ladies' College displayed their creativity, passion, and dedication to sustainable oceans with the Life Below Water Project, a joint initiative between UWA Girls in Engineering and OceanWorks, aiming to increase inclusion and diversity in marine science, engineering and related fields.
Combining Science, Technology, Engineering and Maths skills with the Arts, the talented girls created multimedia masterpieces celebrating marine biodiversity. These artworks were exhibited at the Life Below Water Prize Ceremony hosted at the Indian Ocean Marine Research Centre on Wednesday 20 November.
Three outstanding pieces were selected to hang on the walls of the Indian Ocean Marine Research Centre, as well as an overall winning design which will feature on a Keep-Cup. These artworks will play their part in promoting sustainable ocean practices at PLC, UWA and broader communities.
Colleen Garland, Art Teacher at PLC Primary, commended the multi-disciplinary approach of this project. "The project highlights the creativity of STEAM, showing how solving large, complex problems combines communication, creativity and collaboration," she stated.
"It was a very rich experience – art with meaning and purpose," agreed Michelle Clayton, Gifted and Talented Coordinator at PLC Primary. "The girls have learnt that they can deliver a powerful message through their artwork. We have relished the experience of collaborating with UWA and OceanWorks. The opportunity to work with experts in different fields to support our work with our students is immeasurable."
Jan Flynn, Chief Metocean Engineer at Woodside Energy, a sponsor of the program, commended the initiative for engaging young women on an important global problem. "Their enthusiasm, the quality of the artwork produced and their desire to protect the oceans for future generations were truly awe-inspiring.  The girls had not only explored their artistic talents, but had also researched the threats to our coral reefs from bleaching events due to increasing ocean heat content induced by climate change, plastic pollution and invasive species, developing their critical thinking skills."
By working with primary aged students, this project has been an opportunity for UWA to engage girls in STEM careers from an early age, inspiring interest and building confidence among the next generation of female leaders, thinkers and problem-solvers.
Media references
Tina Zhang (Communications Officer, UWA OceanWorks) 6488 3732
Tags
Groups

Faculty of Engineering and Mathematical Sciences