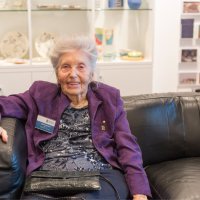 Tuesday, 26 November 2019
The University of Western Australia is saddened to advise of the passing of Mollie Dinham OAM on Thursday 21 November.
She was 96 and lived a full, adventurous, intellectual and cultural life on her own terms.
Mollie was a UWA graduate, and while at UWA was awarded a Half-Blue in Hockey.
During wartime, only Half-Blues were awarded, as there was no interstate competition. Along with Shirley Strickland, Mollie served as an official of the UWA Athletics Club.
When the Friends of UWA Athletics Club was formed in 2009, Mollie was one of the principal donors. Mollie was a regular attendee at functions to welcome new UWA Blues. She did enjoy the occasions and delighted in seeing the young sporting stars achieving significant goals.
A private funeral will be held. Should you wish to honour Mollie's life, please support her passion for music and education with a donation to her alma mater, UWA's Music program on 08 6488 4591.
Media references
Louis Humberstone
UWA Sport Marketing, Communication and Events Coordinator
[email protected]sport.uwa.edu.au
6488 4309
Tags
Channels

Sport

Groups

UWA Sport