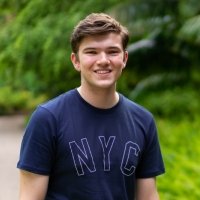 Monday, 25 November 2019
A 19-year-old student from The University of Western Australia who is passionate about how data and economics can be used to tackle global challenges, is the recipient of the prestigious New Colombo Plan ASEAN Fellowship.
The New Colombo Plan is an Australian Government initiative to increase knowledge by providing young Australians with scholarships to study and undertake internships in the Indo-Pacific region.
UWA student Luke Thomas, who is studying a Bachelor of Philosophy majoring in Mathematics and Statistics and Economics at UWA, is one of the high ranking scholars selected for the 2020 program, and will carry out his Fellowship in Singapore and China.
Mr Thomas, who has an interest in how policy can be used to build stronger and more resilient nations, said he was delighted to be selected for such a prestigious Fellowship.
"I never thought it would be possible to receive such an amazing opportunity this early in my professional life, where I can participate in an exchange in another country and learn from people who are at the cutting edge of their fields," he said.
"Singapore is well placed economically and technologically to power development. It is also regionally and politically important and has an important relationship with Australia.
"I'm interested in how science and maths can be used to develop evidence, data and insight to help tackle global problems such as poverty, inequality, climate change, and assist international leaders in their decision making process."
UWA Bachelor of Philosophy students Racheline Tantular, Amber Anderson, Luke Barber and Cassandra Howell and Bachelor of Arts student Alexander McKenzie have also been selected as recipients of 2020 New Colombo Plan Scholarships. They will study at universities across the Indo-Pacific region.

UWA Vice-Chancellor Professor Dawn Freshwater congratulated the students selected for the program.
"Our students should be very proud of their achievement in being accepted into an international program of this calibre," Professor Freshwater said.
"Through learning abroad they will have the opportunity to expand on their studies, develop professional networks and learn from world-class teachers and experts."
Participants of the 2020 New Colombo Plan program were announced by the Department of Foreign Affairs and Trade at an event held in Canberra today.
Media references
Jess Reid (UWA Media and PR Adviser) 6488 6876
Tags
Channels

Awards and Prizes — Business and Industry — Media Statements — Research — Science — Students — University News

Groups

Faculty of Arts, Business, Law and Education