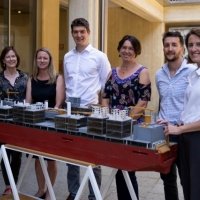 Wednesday, 13 November 2019
Five researchers at The University of Western Australia have been awarded almost $2.05 million in Federal Government funding for projects that range from investigating Australian rare breed poultry and livestock conservation to working out whether cutting-edge cognitive approaches can help those with severe anxiety.

The projects are funded under the Discovery Early Career Researcher Awards (DECRA) scheme through the Australian Research Council (ARC). Federal Member for Curtin Celia Hammond yesterday visited UWA to meet the funding recipients and learn more about the projects they are undertaking.

"The number and range of research grants awarded to UWA through DECRA show its depth and breadth as a comprehensive university and the high regard with which its researchers are held nationally and internationally," Ms Hammond said.

Professor Robyn Owens, Deputy Vice-Chancellor (Research), said developing and supporting the research of early career researchers was absolutely critical to the University's future success.

"I'm delighted that these outstanding researchers have been acknowledged by the ARC for their innovative and impactful work," Professor Owens said.

Cultural anthropologist and East Fremantle resident Dr Catie Gressier, from UWA's School of Social Sciences, has been awarded $422,108 over three years to carry out the first Australia-wide study of rare breed farming.

"This project will provide valuable data on the values and practices of rare breed farmers while raising awareness of the challenges they face in their critical conservation work," Dr Gressier said.

"The findings are expected to provide innovative perspectives on human-animal relations in contemporary Australia. We aim to determine how we can best support Australia's livestock genetic diversity using regenerative farming approaches to contribute to a food-secure future."

South Perth's Dr Hugh Wolgamot, from UWA's Oceans Graduate School, was awarded $422,998 over three years to investigate design waves and develop this concept into a method for establishing safer and more efficient offshore systems.
"This project will overcome a fundamental issue at the heart of ocean engineering design, impacting our offshore renewables and conventional offshore industries," Dr Wolgamot said.

"Ocean waves are random, yet the best design tools for wave-structure interaction (model testing and computational fluid dynamics) require short, precisely-defined wave sequences. The outcomes will reduce uncertainty and improve design and safety for facilities such as wind farms and gas platforms."

Carine's Dr Ben Grafton, from UWA's School of Psychological Science, has been awarded $409,038 over three years to investigate the cognitive basis of anxiety-linked heightened negative expectancies.

"Problems with anxiety tear at the social and economic fabric of our nation," Dr Grafton said. "People who are more vulnerable to experiencing high levels of anxiety display a heightened tendency to expect that the future will be emotionally negative.

"The findings from this research program will directly contribute to our national strategic efforts to improve the mental well-being of our citizens, and to build healthy and resilient communities."

Spearwood's Dr Emilie Dotte-Sarout, from UWA's School of Social Sciences and School of Humanities, was awarded $399,551 over three years to investigate the scientific lives of women in the development of a particular discipline; using Pacific archaeology as a case study.

"The history of science has traditionally produced gender-biased narratives, so an innovative interdisciplinary approach will be developed to document the hidden role of women in the history of archaeology," Dr Dotte-Sarout said.

"We aim to detail a more inclusive history that provides diverse role models of women in science from our region and to identify social and cultural patterns that have limited women's careers as well as successful strategies historically developed to overcome these patterns."

Nedlands resident Dr Sajesh Thomas, from UWA's School of Molecular Sciences, was awarded $393,116 over three years to develop methods in quantum crystallography to accurately estimate the electronic properties of molecular crystals.
"We aim to apply these methods to the design of new solid-state forms of pharmaceutical drugs that will be more soluble and effective, leading to reduced drug dosage," Dr Thomas said.
Media references
Simone Hewett (UWA Media & PR Adviser)                                                            08 6488 7975
Tags
Channels

Awards and Prizes — Events — Media Statements — Research — Science — University News

Groups

Centre for Offshore Foundation Systems — ECM Faculty Focus — Faculty of Arts, Business, Law and Education — Faculty of Engineering and Mathematical Sciences — Humanities — Psychology — School of Molecular Sciences — School of Social Science — Science Matters