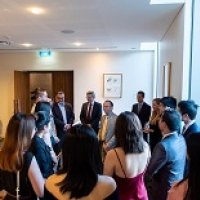 Tuesday, 12 November 2019
The first cohort of clinical medicine students from Zhejiang University (ZJU) in China who have been studying at UWA on the pioneering Biomedical Sciences Articulation Program were farewelled at a recent dinner.
The seven students from ZJU were presented with a certificate of recognition and symbolic piece of Aboriginal art.
They were joined by the four new students who commenced the program in July, along with Tayyeb Shah, Deputy-Vice Chancellor Global Partnerships; Professor Jeff Keelan, Head of School, Biomedical Sciences; Professor Minghao Zheng, Associate Dean International; and Doctor Ricky Chen who manages the program at UWA.
Professor Keelan commended the students on the courage to undertake the transformational opportunity.
"These students are innovators for accepting the unique challenges of this program. I hope they will look back on this time and realise how pivotal the experiences were in altering the direction of their lives. It will change their perspectives, open doors to new opportunities and enable them to have a global career.
I congratulate the students on their outstanding achievements and wish them all the best with their ongoing studies at Zhejiang. They will always be welcome back to the UWA community."
Kaiwei Wu, one of the students to complete the UWA component of her studies said, "Looking back I can say with confidence it's been a fabulous experience.
"I made many memories together with the other students and even though we went through some challenges we always had each other's back.
Studying at UWA has been a wonderful opportunity and I thank everyone who is part of the program and the support you have given us. It wouldn't have been such a wonderful study experience without you."
UWA and ZJU first established a partnership in 2014 and in 2017 formalised the UWA Biomedical Sciences Articulation Program to offer a world class learning opportunity.
The program offers students studying a Bachelor of Clinical Medicine at Zhejiang with the opportunity to undertake 1.5 years of study at UWA in the Bachelor of Biomedical Science, before going back to ZJU to complete their clinical medicine studies. At the end of the program they will graduate with dual Clinical Medicine and Biomedical Science degrees.
Media references
Emily Stone , Communications Officer: +61 6457 7365
Tags
Groups

Faculty of Health and Medical Sciences