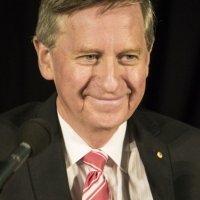 Friday, 8 November 2019
Philanthropist and education advocate Dr Annie Fogarty AM and world-leading pre-term birth expert Professor John Newnham have been recognised in the 2020 WA Australian of the Year Awards, announced last night.

Dr Fogarty was named 2020 West Australian of the Year for her work to create the philanthropic Fogarty Foundation, which was set up by Dr Fogarty and her husband Brett in 2000 to fund education programs to support people to reach their potential as community leaders.

Established in 2004, the UWA Fogarty Scholarship Program is a joint initiative between the Fogarty Foundation and UWA and is one of Australia's premier scholarship programs, awarding 10 new scholarships to students each year. Each scholarship is valued at $10,000.

The program invests in exceptional young people who use their skills, abilities and commitment to lead positive change in our community, State and nation.

Professor Newnham, Head of UWA's Division of Obstetrics and Gynaecology , was named WA Senior Australian of the Year for his internationally recognised research into modern obstetrics over three decades of research.

In 1989, Professor Newnham pioneered the Raine Study , which involved recruiting 2900 unborn babies at 18 weeks of pregnancy and then following their health, and that of their family, for life. This was the world's first pregnancy-focused lifetime cohort study and remains one of the most successful medical research studies to have been conducted in Australia.

More recently, he has applied 30 years of research findings to discover how the rate of preterm birth may be lowered at a population level. In 2014 he launched the Western Australian Preterm Birth Prevention Initiative and its early success has now enabled him to expand the program nationally.

In July 2018 he led the development of the Australian Preterm Birth Prevention Alliance, supported by NHMRC funding. The alliance is the world's first national program aiming to safely reduce the rate of harmful early birth.
Media references
Simone Hewett (UWA Media & PR Adviser)                                                            08 6488 7975
Tags
Channels

Awards and Prizes — Events — Media Statements — Research — University News

Groups

Faculty of Health and Medical Sciences — School of Medicine and Pharmacology