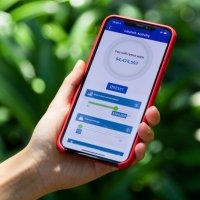 Friday, 8 November 2019
An interactive mobile app that helps simplify and explain the complex workings of the Australian superannuation system has been developed by a researcher from The University of Western Australia in collaboration with finance professionals and start-up entrepreneurs.
Dr Elizabeth Ooi, Lecturer in Accounting and Finance at UWA's Business School, co-founded the company behind the mobile app after realising that most Australians don't fully understand how much super they have, which super fund they are with or where their money is invested.
"Superannuation is a vitally important part of many people's lives, however it's often a very difficult concept for a lot of the workforce to grasp," Dr Ooi said. "For some, it's the difference between retiring in comfort, or retiring on a frugal income."
The app, UnderstandingSuper, focuses on educating Australians about the key decisions they need to make in order to feel confident about their superannuation balance and growth and was developed by Dr Ooi in collaboration with Scott Ko, Brett Fisher and Kevin Liu.
"UnderstandingSuper utilises contemporary learning techniques such as infographic videos and interactive activities to introduce basic super concepts and terms, while presenting some common decisions a typical Australian might face," Dr Ooi said.
The app is aimed at a general audience but is especially useful to younger people who are facing the complex challenges of super for the first time after entering the workforce.
"Surveys continuously show that Australians are confused about superannuation and this can be attributed to the fact that the information currently available is often complex," Dr Ooi said. "The aim here is to make a difference by helping people become financially literate, not to turn them into superannuation experts."
UnderstandingSuper is available on all major app stores and will be translated into eight languages, including Arabic, Chinese, French, German, Japanese, Hindi, Italian and Spanish, to be accessible later this year.
"We realised there was a large subset of people who may be struggling to understand super not just because of its complexities, but also because of a language barrier," Dr Ooi said.
"We worked together with students from the Master of Translation Studies program at UWA to translate the contents of the app into additional languages, ensuring the information is accessible for international students and new migrants."
The development of Understanding Super was funded by CPA Australia, UWA's Business School and the Faculty of Arts, Business, Law and Education.
Media references
Nicholas Smith (UWA Media Officer) 08 6488 1888
Tags
Channels

Business and Industry — Media Statements — Teaching and Learning — University News

Groups

Faculty of Arts, Business, Law and Education