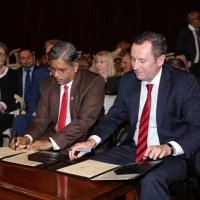 Thursday, 7 November 2019
The University of Western Australia's Oceans Institute and the Sindhu Swadhyay Sanstha School of Integrated Aquatic Education at the University of Mumbai in India have signed a Memorandum of Understanding (MoU) to promote marine research links across the Indian Ocean.
The signing was witnessed by UWA Oceans Institute Director Professor Peter Vethand UoM Pro Vice Chancellor Dr Ravindra Kulkarni, in the presence of WA Premier Mark McGowan, WA Government Trade Commissioner in Mumbai Peter Baldwin, Vice-Chancellor Professor Suhas Pednekar and Associate Professor Dr Vinayak Dalvie from UoM, and the Honourable Devendra Fadnavis, Chief Minister of Maharashtra State Relations.
Professor Peter Veth said the memorandum provided an opportunity for both universities to develop new research collaborations across a broad range of marine research areas.
"The Oceans Institute is heavily focused on enhancing multidisciplinary research collaborations across the Indian Ocean, by engaging with institutes and organisations among the Indian Ocean Rim Association (IORA) countries, as well as others that border or have interests in the Indian Ocean," Professor Veth said.
"India is a key country within this context and the University of Mumbai Sindhu Swadhyay Sanstha School of Integrated Aquatic Education, which is focussed on aquatic resource development from inland waters to beyond the continental shelf, is a natural fit for us.
"We've identified a range of projects across research areas including fisheries, aquaculture, coastal communities, marine seascapes, and integrated coastal management. There are also opportunities for cooperation in Masters-level teaching and short intensive modules that we're very excited about."
Professor Veth said the University of Mumbai, established in 1857 as the University of Bombay and now operating across five campuses, was undergoing a strong growth phase.
UoM had seen substantial increase in undergraduate, postgraduate and distance education students in the past five years, and is now home to more than half a million students.
"The challenges facing the world's oceans are of such a magnitude that no single institution or organisation can address them on their own," Professor Veth said. "They require the sharing of knowledge across institutions, disciplines and geographical areas.
"This MoU reflects our desire to broaden and deepen our links with the University of Mumbai and to share ideas, data and resources around common marine objectives. It also aligns with the UWA 2030 Vision to be a leading research and educational institution located on the Indian Ocean Rim."
The MOU was welcomed by UWA Vice-Chancellor, Professor Dawn Freshwater.
"This MOU is a great step forward for the University of Western Australia. We were delighted that our Premier, Mark McGowan, was there to witness such an exciting development not only for UWA, but for Western Australia as a whole.
"The Indian Ocean Rim is one of the most dynamic regions in the world. There are enormous opportunities there, and our growing research collaborations are positioning us to be a major presence."
Media references
Professor Peter Veth (UWA Oceans Institute) 08 6488 7204
Tags
Channels

Events — Media Statements — Research — Science — University News

Groups

Oceans Institute — Science Matters