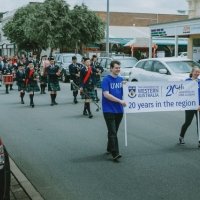 Thursday, 7 November 2019
The University of Western Australia celebrated two decades of learning, teaching and research in Albany this year.
The milestone was marked by an academic procession down York St and culminating at the Albany Entertainment Centre (AEC) where a reception was held.
UWA Vice-Chancellor Professor Dawn Freshwater said the University was thrilled to be celebrating 20 years in Albany and was thankful for the ongoing support of the City of Albany, the Great Southern Development Commission and the local community.
"UWA in Albany has gone from strength to strength, expanding the undergraduate teaching program, undertaking important environmental and medical research through the Rural Clinical School of WA, the Centre of Excellence in Natural Resource Management and the Wave Energy Research Centre," she said.
"Our relationship with this community is an important and continuing one, dedicated to responding to the needs of the local community and informing the challenges facing the global community," said Albany Centre Director Jennifer O'Neil.
During the past twenty years UWA Albany has built strong relationships with local, State and Federal Government agencies as well as community groups.
Highlights over past 20 years include:
Three undergraduate degrees with a choice of 8 majors that can be completed fully in Albany
Four of the five UWA undergraduate degrees with a range of 45 majors can be started in Albany and completed in Perth
Completion of the purpose built UWA Albany Science Building;
2015 the discovery of a new plant species of Haemodorum by Professor Stephen Hopper AC and botanical consultants Libby Sandiford and Nathan McQuoid
Practical research in response to industry, community and global challenges
Attracting international researchers to the region for symposia and research collaborations
The provision of the opportunity to graduate from this region with a Bachelors, Honours, Masters or PhD degree.
Establishing of the Great Southern Marine Research Facility, including the Wave Energy Research Centre.
The expansion of the UWA Rural Clinical School of WA, in partnership with Notre Dame University, to provide a year-long placement for medical students in their penultimate year of study.
Partnering with Curtin University to support a Bachelor of Education in Early Childhood Education and Primary Education
Media references
Paula Phillips +91 8 9842 0810
Tags
Groups

The Albany Centre