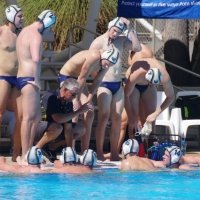 Wednesday, 6 November 2019
On 27 September 2019, Water Polo Australia announced the Australian Men's team for the FINA World Men's Junior Water Polo Championship from 12-20 December in Kuwait, including four UWA Torpedoes players.
The 13-man squad comprises of players from across the country.
"We are pleased to have a nice mix of younger and older players in the team," Head Coach Andrew Yanitsas said.
The squad includes UWA Torpedoes and student Matthew Murphy who deferred Semester Two of his studies to concentrate on preparation for the gruelling competition.
Among those selected are Torpedoes Lachie Vos, Matt Oberman and Lewis Putt, who have all earned their spot after a challenging selection process due to the high quality and hard work of potential players.
Lewis Putt was a late addition following fellow squad member Reilly Townsend's injury
The Sharks have drawn a competitive pool, set to take on Brazil, Americas 4, Greece and New Zealand in the group rounds.
"We are looking forward to seeing how the boys have developed as athletes in the last five years ahead of the World Championships," Yanitsas said.
Before their campaign in Kuwait, the 13-man squad will embark on a two-week tour of Europe which will be the first time the Born '99 age group has toured since 2014.
To follow results and stream all rounds of competition, head to FINA.org.
Media references
Louis Humberstone
UWA Sport Marketing, Communication and Events Coordinator
6488 4309
Tags
Channels

Sport

Groups

UWA Sport