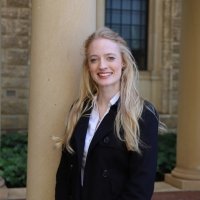 Friday, 1 November 2019
Denmark resident and environmental scientist Natasha Lutz has been named Western Australia's Rhodes Scholar for 2020, recognising her potential as a young global ambassador.
Ms Lutz, 23, who has completed a Bachelor of Science and Economics and will finish her Honours in microplastics this year, is UWA's 104th Rhodes Scholar in 106 years.
She plans to undertake an MPhil in Environmental Change and Management at Oxford University, learning about ecosystem conservation and management and lower carbon futures.
"My current research is about the impact of micro plastics in the urban environment. Microplastics are a growing pollution concern, and a relatively new field, so something very interesting to be studying," Ms Lutz said.
"I'm excited to be able to learn as much as I can from those at the top of their fields so that I can use that knowledge to help solve some of the problems facing the world.
"If you have a healthy planet and environment it leads to healthier people so it ties into a lot of global issues such as food security, water security and how we manage our resources into the future.
"This was a huge surprise and a bit surreal but I feel incredible honoured to have been given this scholarship. I hope I can use this opportunity to go to Oxford and use it to the best of my ability to do good for the world."
Ms Lutz grew up on a farm without internet or mobile phone reception, restricting her ability to carry out school assignments but still managed to graduate with an ATAR of 99.45 and Dux of Denmark High School.
"Growing up on a rural property gave me first-hand experience of the effects of climate change and environmental mismanagement," Ms Lutz said. "During my teens I became a beekeeper and when tens of thousands of my bees suddenly collapsed during poor environmental conditions, I wanted to learn more about why and how the environment was changing."
Ms Lutz holds down several part-time jobs including graduate environmental scientist for GHD, software support manager for Profiler software, lead residential Advisor at University Hall, and volunteers as the director of Sites4Good, which delivers a program where students create websites for charities and not-for-profits.
Ms Lutz joins a distinguished group of Rhodes Scholars from UWA, including former Prime Minister Bob Hawke, former WA premier Geoff Gallop, the late David Malcolm, former WA chief justice, and Australian business leader Sir Rod Eddington.
Media references
Natasha Lutz 0477 027 840
Simone Hewett (UWA Media & PR Adviser) 08 6488 7975
Tags
Channels

Arts and Culture — Media Statements — University News

Groups

Migrate — Science Matters