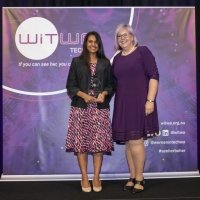 Wednesday, 30 October 2019
A young diabetes researcher from The University of Western Australia has been awarded the People's Choice Award at the 2019 Women in Technology WA Tech [+] 20 Awards, selected from more than 180 outstanding women in STEM fields.
Dr Lakshini Herat from the UWA Faculty of Health and Medical Sciences, who is a Postdoctoral Research Officer with the Dobney Hypertension Centre at Royal Perth Hospital Research Foundation, was recognised for her research into testing a new class of anti-diabetic drugs that could be used in particular to treat diabetic eye complications.
The WITWA Tech [+] 20 AWARDS recognise female researchers, inventors, scientists, computer engineers, start-up innovators and technologists who are making a significant impact in their fields.
Dr Herat said vision complications from diabetes could result in permanent damage to the eye, leading to vision loss.
"A lot of people are affected by diabetes and its complications," Dr Herat said. "Diabetes not only has an impact on the eye, it causes life-threatening heart and kidney problems.
"The current treatment options available for treating diabetic complications can have side effects. What we are looking to do through our research is to work on improved drugs that can treat eye conditions caused by diabetes, but also other ailments associated with diabetes."
Dr Herat said she was delighted and humbled to receive the award and hoped it would encourage other young women to consider a career in STEM.
"It's such a rewarding career," she said. "To know that the work you are doing is having a direct impact on people's health motivates me every day. The field of STEM is really diverse too, there are so many different pathways you can take.
"I am very thankful to everyone who has supported me throughout my research career. In particular, I am very grateful to Ms Pauline Charman for shaping me to become a STEM advocate."
UWA Deputy Vice-Chancellor (Research) Professor Robyn Owens said the award was well deserved.
"Dr Herat is helping make significant advances in the treatment of diabetes and her mentoring of young women in the field is helping other young STEM researchers develop," Professor Owens said.
"STEM research is vital for improving the health of our communities and will ultimately result in better patient care."
Dr Herat was presented the award at an awards ceremony held at the Hyatt Recency in Perth last week.
Media references
Jess Reid (UWA Media and PR Adviser) 08 6488 6876
Dr Lakshini Herat (UWA Faculty of Health and Medical Sciences) 0402 620 220
Tags
Channels

Media Statements — University News

Groups

Faculty of Health and Medical Sciences