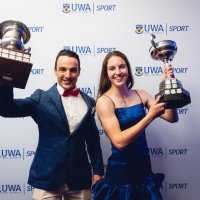 Friday, 25 October 2019
The annual UWA Sports Awards, held on Wednesday 23 October at the University Club of Western Australia, celebrated the achievements of UWA clubs and student athletes over the past year.
The evening, presented by MC Nathan Drudi, was attended by a variety of members of the UWA Sport community.
Special guests included UWA Vice-Chancellor Dawn Freshwater, Deputy Vice-Chancellor David Sadler, Chair of the UWA Sport Advisory Council Ross Kelly, UWA Sports Council President Max Qua, UWA Director of Student Life Chris Massey, and Guild President Conrad Hogg.
UWA School of Indigenous Studies Director of Student Services Marilyn Strother was recognised with an honorary award for 20 years of service to Indigenous Nationals, presented by Vice-Chancellor Dawn Freshwater and Ian Fitzpatrick.
Club Service Awards were received by Curtis Novacsek (UWA Ultimate Club), Katherine Sparrow (UWA Athletics Club), Oliver Cownie (UWA Cricket Club), Alexandra Lyons (UWA Nedlands Football), Amalie Froland (UWA Handball Club), Pippa Morgan (UWA Hockey Club), Bronte Wearing (UWA Ultimate Club) and Daniel Vittino (UWA Water Polo Club).
Club Letters were awarded to Bernadette Williams (UWA Athletics Club), Olivia Lyons (UWA Athletics Club), Elizabetha Paronva (UWA Athletics Club), Brianna Beahan (UWA Athletics Club), Cassandra Greenwell (UWA Nedlands Football Club), Matthew Hender (UWA Volleyball Club), and Bronwyn Cox (UWA Boat Club).
St Catherine's College were named winners of the Inter-College Spirit Award, Men's Nicholson Cup, and Overall Inter-College Champions, while St Thomas More won the Women's WICSA Cup.
In Inter-Faculty, BPhil won the Men's Goyder Cup, with PESA winning the Women's Strickland Cup and Overall Champions.
The Awards also included a panel discussion on the Road to Tokyo 2020, featuring Richard Pengelley (Two-time Olympian and 1979 UWA Sports Star of the Year), Claire Mclean (Paralympic silver medallist and 2005 UWA Sports Star of the Year), Brendyn Appleby (UWA graduate and Head of Conditioning at Hockey Australia), and Tyler Miller (UWA student athlete and Rugby 7s referee).
The 2019 Sports Star of the Year was awarded to UWA MBA student Nathan Fyfe.
A familiar name to most in the sporting community, Fyfe enjoyed a standout year, winning a second Brownlow Medal and being named captain of the All-Australian team.
Although Nathan is currently away, the University looks forward to recognising his achievements on his return.
Coach of the Year was awarded to Tuko Maia of UWA Fencing Club, in recognition of his achievements in 2019.
Under Tuko's guidance, the UWA Fencing Club won the 2019 National Club Team Epee Championships, won bronze at Men's Open Epee at UniSport Nationals, and has seen 3 individual athletes in top 5 rankings in Australia, as well as being at the forefront of a wheelchair fencing program at the club.
In their centenary year, it was fitting that the UWA Boat Club was named Champion Club.
In 2019, UWA Boat Club gave top priority to increasing participation, performance and inclusion both within the club and within the sport of rowing.
As well as achieving outstanding podium performances in State, National and World Champions, the club has strived to offer a safe and inclusive environment with initiatives including social rowing, school rowing, and Masters squads.
Congratulations to all who won awards on the night, and thank you to all who attended.
View photos from the night here .
Media references
Louis Humberstone
UWA Sport Marketing, Communications, and Events Coordinator
6488 4309
Tags
Channels

Sport

Groups

UWA Sport