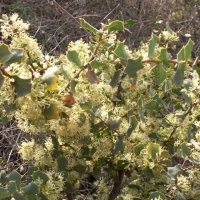 Thursday, 24 October 2019
Scientists from The University of Western Australia are part of a worldwide team of almost 200 plant scientists that has mapped the gene sequences of more than 1100 plants, the culmination of a nine-year research project.

The One Thousand Plant Transcriptomes Initiative (1KP) is a global collaboration to examine the diversification of plant species, genes and genomes across the more than one-billion-year history of green plants dating back to the ancestors of flowering plants and green algae.

The findings, published in Nature , reveal the history of how and when plants secured the ability to grow tall, and make seeds, flowers and fruits. It provides a framework for understanding plant diversity around the globe including annual crops and long-lived forest tree species.

Three UWA scientists were part of the international team: Associate Professor Patrick Finnegan from the School of Biological Sciences, Associate Professor Martha Ludwig from the School of Molecular Sciences and Dr Matthew Nelson from the UWA Institute of Agriculture.

Associate Professor Patrick Finnegan said the study gave an unprecedented insight into the duplications, expansions and contractions in gene numbers that have occurred during the evolution of plant diversification.

"From this information, key gene sets underlying plant innovations such as living on land, producing seed, flowering, growing tall, occupying challenging environments and interacting harmoniously with beneficial bacteria and fungi can be identified in plants that, among other things, provide us with essential food, fuel and fibre," he said.
Associate Professor Ludwig said the work provided a unique opportunity to compare which genes had been maintained and which had been lost in multiple species of diverse plant groups.
"This will contribute to our understanding of how biochemical pathways, such as photosynthesis, stress avoidance and tolerance, and nutrient uptake have been built over evolutionary time," she said.
"We will be able to see commonalities and differences, which will inform future strategies in protecting biodiversity as well as improving crop performance.
The paper, "One Thousand Plant Transcriptomes and Phylogenomics of Green Plants," is published in Nature . Sequences, sequence alignments and tree data are available through the CyVerse Data Commons .
Media references
Associate Professor Martha Ludwig (UWA School of Molecular Sciences)              08 6488 3744

Simone Hewett (UWA Media Adviser)                                                                08 6488 7975
Tags
Channels

International — Media Statements — Research — Science — University News

Groups

School of Biological Sciences — School of Molecular Sciences — Science Matters — UWA Institute of Agriculture