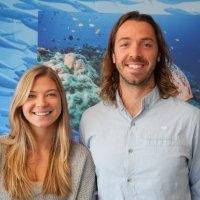 Tuesday, 22 October 2019
Two Ocean Institute PhD candidates, Carly Portch and Justin Geldard, have packed their winter woollies and headed to Norway to attend a prestigious oceans conference targetted at young people.
The pair are among only 69 participants from 122 countries across the globe (four from Australia) selected from more than 1,000 applicants to attend the Sustainable Ocean Alliance's fourth ' Our Ocean Youth Leadership Summit ' in Oslo.
The two-day event on 23-24 October includes the chance to network with more than 500 policy makers, corporate leaders and heads of international organisations, foundations and NGOs.
Pitched at 'p roblem-solvers, sustainability champions, students and young professionals under 35-years' who have an interest in sustainability and helping to solve the planet's many ocean challenges, it aims to provides a platform for learning, sharing and acting so as to empower young leaders to take ocean action.

For Carly, a Canadian-born coastal engineering PhD candidate within UWA's Oceans Graduate School studying physical oceanography and coastal hydrodynamics in Albany, the chance to meet with other young ocean leaders is an opportunity to share ideas around innovative marine science technologies.
"Albany is a regional city looking to implement wave energy, and my research looks specifically at the existing hydrodynamic and morphodynamic processes in the area, to understand how these processes may change if a wave farm is implemented," she says.
"I'm hoping that by understanding the coastal impacts of a potential wave energy farm, we can use this knowledge to design future wave energy devices to provide coastal protection against flooding and erosion.
"This will help coastal communities adapt to the irreversible result of climate change. If wave energy can be used as both a renewable resource and coastal protection, it can help us mitigate and adapt to future climate change effects."
"Everyone has a role to play in protecting our oceans." agrees Justin, a coastal engineering PhD candidate within the Oceans Graduate School, whose research is focused on engineering smart artificial corals.
"By promoting this point of view and by sharing ownership of the challenge, I think it's possible to maximise awareness and motivation towards making positive sustainable changes."
Passionate about enjoying what the ocean offers recreationally through his involvement in surf lifesaving, open water swimming and scuba diving, Justin says his project hopes to explore and understand the hydrodynamics within coral reefs, from the individual organisim to reef scale.
"I hope that this understanding will be a key input into restoration programs, ultimately increasing their likelihood for success in conserving and rehabilitating damaged coral reef ecosystems.," he says. "Coral reefs contribute to ocean health in numerous ways and we need to ensure that they are sustainably managed to deal with the changing climate."
Of course there'll also be some downtime in Norway and as well as meeting up with key contacts for the Oceans Institute and Oceans Graduate School, Carly and Justin say they plan on fitting in some hiking and even surfing, weather permitting!
You can follow news of the Our Ocean Youth Leadership Summit 2019 on the Sustainable Ocean Alliance's Facebook , Twitter and Instagram accounts.
Media references
Liz McGrath (UWA Oceans Institute)                 (+61) 433 795 509
Tags
Channels

International

Groups

Oceans Institute — The Albany Centre