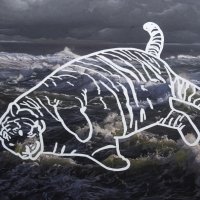 Monday, 21 October 2019
The University of Western Australia's Cultural Precinct will hold a symposium on Saturday 2 November to explore ways artists and creative industries are experimenting with new technologies.
Hosted in partnership with Artsource and the 2019 Fremantle Biennale with support from FutureNow, the Chamber of Arts and Culture of Western Australia and the University of Notre Dame , MAKING: A living? will run from 10am to 5pm at the Tannock Hall of Education at the University of Notre Dame.
The symposium brings together leading local and international professionals from industries including the visual and performing arts, design, tourism, media and social impact.
UWA Professor Ted Snell, one of the event organisers, said MAKING: A living? would present some of the finest work from Perth and across the globe.
"There will be discussion with some of the leading innovators from various industries about the ways new technologies are being used to create creative and engaging pieces," Professor Snell said.
Dutch artist Daan Roosegaarde will give the symposium's keynote lecture. Roosegaarde's unique projects have seen him collaborate with designers and engineers to create large-scale installations that span architecture, urban design, social design and art.
His internationally acclaimed installation Waterlicht will take over Fremantle's Esplanade Park from November 1 to 3 as part of the Fremantle Biennale.
The symposium also shines a light on local innovators, including Danielle Caruana, better known as musician Mama Kin, social impact producer and theatre-maker Aden Date; and Oron Catts and Dr Ionat Zurr, artists and co-founders from UWA's art and science laboratory, SymbioticA.
Some of Australia's leading visual art professionals will be featured, including Perth-born, Sydney-based artist Abdul Abdullah, executive director of the Chamber of Arts and Culture of Western Australia Shelagh Magadza and Sydney-based artist, lecturer and head curator at Artbank Dr Oliver Watts.
General Manager of Artsource Sue-Lyn Aldrian-Moyle said the symposium would allow industries to explore learning opportunities from different disciplines and sectors.
For more information, including the full program and list of speakers, visit www.artsource-uwa-makingaliving.eventbrite.com
Image: Abdul Abdullah, Superpredator , 2019, oil on linen, 180cm x 240cm, courtesy of the artist
Media references
Megan Hyde (UWA Cultural Precinct) 08 6488 7477
Jess Reid (UWA Media and PR Advisor) 08 6488 6876
Tags
Channels

Arts and Culture — Media Statements — University News