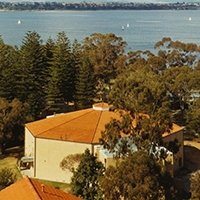 Tuesday, 15 October 2019
The University of Western Australia's Octagon Theatre turns 50 this week with the anniversary to be celebrated in a special event presented by the UWA Historical Society.
Dr Joan Pope, Dr William Dunstone and UWA Theatres Manager Rob Lines will discuss the history of the Octagon over the past half-century from 5.30pm, Tuesday 15 October at the Octagon.
Designed by local architects Hill and Parkinson, in close collaboration with British theatre director Sir Tyrone Guthrie, the 758-seat theatre aimed to provide a multi-purpose space for lectures and drama.
After considerable pressure from staff and students, The Octagon was built in the early 1960s to replace the old Dolphin Theatre, at a total cost of around $4.2 million (adjusted for inflation).
The then-Chancellor of the University and Chief Justice of Western Australia, Sir Lawrence Jackson, officially opened the Octagon Theatre in 1969.
Since opening, the Octagon has played host to some famous faces and performances. Princess Margaret, Sir Edmund Hillary, the Dalai Lama, Sir Bob Geldof, Marianne Faithfull, Spike Milligan, Greta Scacchi, Steven Berkoff, Sir David Attenborough, Timothy West and Prunella Scales are among the big names to have visited or performed at the Octagon over the past five decades.
The Octagon has also hosted many Perth Festival shows over the years, including the world premiere of Bran Nue Dae in 1990 and the Festival debut of a young actor by the name of Mel Gibson opposite Angela Punch (McGregor) in John Bell's Nimrod production of Romeo and Juliet in 1979.
In addition to acting as a flexible theatre for multiple uses, the Octagon was the first theatre in Australia to abandon the traditional framed arch stage, in favour of a thrust stage design.
For more information about the event, and to register click here .
Media references
Nicholas Smith (UWA Media Officer) 08 6488 1888
Tags
Channels

Arts and Culture — Media Statements — University News