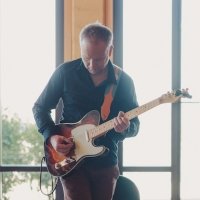 Monday, 14 October 2019
James Ledger from The University of Western Australia's Conservatorium of Music and Australian musician Paul Kelly have been awarded Best Classical Album in the 2019 ARIA Awards for the album Thirteen Ways to Look at Birds. The performers on the album also include Alice Keath and the Seraphim Trio.
The album comprises of 16 tracks that celebrate the beauty and magnificence of birds. The music is set to words by poets such as Judith Wright, Emily Dickinson, John Keats and WB Yeats.
Mr Ledger and Paul Kelly composed parts of the album remotely, both working in different cities and sending emails and recordings back and forward to compile the songs. The album was initially to have a theme based around animals, but after realising the topic was too broad, it was narrowed down to birds. It features songs about birds such as owls, nightingales, thornbills, black cockatoos, black swans and magpies.
Mr Ledger said it was a wonderful experience writing music and working with Paul Kelly, a world-renowned Australian recording artist.
"It was a great collaboration. Paul is just the most laid back and generous person to work with and it was amazing to see the merging of our ideas that resulted in music that the two of us could only have produced together," Mr Ledger said.
"The award is a great honour. Paul and I started working on the album in 2016. I'm excited that the album's inclusion in the ARIA awards will help broaden its reach and accessibility to people that might otherwise not have had the opportunity to hear it."
Mr Ledger said birds were unusual creatures that made a fantastic theme and study for art and song writing.
"They have unique vocalisations and complex repertoires not found in any other animal and the symbolism of birds offers many creative possibilities in music," he said.
Mr Ledger's favourite bird-song is that of the magpie, and it is the only bird call featured in the album, on the last track 'The Magpies."
"The voice of the magpie is just amazing and so melodic, it has such as great range and is a wonderful close for the album," he said
Media references
Jess Reid (UWA Media and PR Advisor) 08 6488 6876
Tags
Channels

Arts and Culture — Awards and Prizes — Media Statements — University News

Groups

Faculty of Arts, Business, Law and Education — Migrate — Music