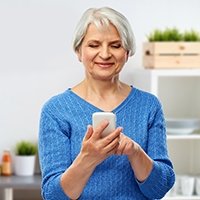 Friday, 11 October 2019
A unique multi-purpose mobile app in development at The University of Western Australia is set to improve the independence of seniors at home, assist people living with disabilities and in isolation, and will increase digital literacy among regional communities.
Being developed in UWA's School of Social Sciences by Dr Łukasz Krzyżowski, the SPARK mobile app is designed with input from the community, to serve the community.
Dr Krzyżowski said the SPARK app, which would be officially launched in February next year, would link people in a nurturing network, encouraging a mutual exchange of skills and knowledge and acting as a personalised support network.
The SPARK app will register users as either community volunteers or as those seeking assistance. Via the app, requests for help will be sent across the network and these could range from small requests like changing a lightbulb to assistance in picking up an item from a local supermarket.
Dr Krzyżowski said that linking those needing help with local community volunteers could promote much more than just help with a task needing attention.
"We know that the biggest barrier to older adults living independently at home is lack of adequate social and community support networks," he said. "SPARK helps to facilitate and maintain these networks of support for older people in particular."
Collaborating in the SPARK app development are a number of not-for-profit and social enterprise organisations including ' Befriend ' – an agency working with people with disabilities and Connect Victoria Park which is working to build a sustainable village model of aged care with communal activities and the promotion of open lines of communication for older residents.
"SPARK app really is multi-use and mobile," Dr Krzyżowski explained. "For instance, the Pingelly Somerset Alliance in partnership with the UWA Future Farm also aims to use the app to provide a platform of digital communication which will support networks of people living in regional or remote communities – particularly those without adequate aged care."
The SPARK app is just one of the major initiatives of the UWA Social Care and Social Ageing Living Lab , a research entity co-founded by Dr Krzyżowski and Professor Loretta Baldassar. The UWA Living Lab is a leader in innovation and policy development in the aged care and disabilities sectors and is the first WA member of the Australian Living Labs network.
"Living Labs feature person-centred, co-design, and social innovation methodologies that bring together academics, industry partners and end-users (in this case older adults) together to respond to critical issues," Dr Krzyżowski said.
" The UWA Living Lab takes a social care and social ageing approach, emphasising the role and value of relationships in an individual's social support networks (formal and informal), including with the environment (physical and structural)," Professor Baldassar said.
"This emphasises the importance of collaborative communities of care to extend people's support networks."
For more information about the UWA Social Care and Social Ageing Living Lab click here , or to register for the upcoming SPARK workshop at the 2019 Research Forum on Ageing – Diversity and Innovation: applied research and policy on Ageing click here .
Media references
Jess Reid (UWA Media and PR Advisor) 08 6488 6876
Tags
Channels

Business and Industry — Media Statements — Research — Science — University News