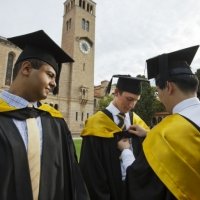 Friday, 11 October 2019
This article is reprinted with the permission of The West Australian newspaper. It was published on Sunday 6 October 2019.

Only two out of WA's five universities are delivering medium-term employment outcomes to students at rates above the national average, findings to be released today reveal.

The percentage of students achieving medium-term fulltime employment — meaning full-time work found within three years — across Australia was 90.1 per cent, the 2019 Graduate Outcomes Survey Longitudinal report found.

But only the University of Notre Dame and the University of Western Australia were found to achieve rates on par or above the average, at 92.8 and 90.6 per cent respectively. While Notre Dame held the second-highest rate of medium-term, full-time employment across the county, WA's other three universities — Curtin, Murdoch and Edith Cowan — only achieved rates of between 86.4 and 89.9 per cent.

The survey measured outcomes of a cohort who responded to the 2016 Graduate Outcomes Survey, and also analysed gender pay gaps and the proportion of students working in jobs not using their education.

The pay gap was most pronounced at a postgraduate coursework level, with the median salary of male postgraduates in 2016 — four months after completing their studies — to be $15,500 or 17 per cent higher than females.

This gap increased to $20,300 or 18.5 per cent higher than females three years after graduation in 2019. But the marked rise in the percentage of graduates working full-time since 2016, from 72.6 per cent to 90.1 per cent, was praised by Federal Education Minister Dan Tehan, who also pointed to a strong growth in average salaries, from $58,700 to $72,800.

"More than 250,000 jobs were created last year and this data shows that university graduates are key beneficiaries," Mr Tehan said. "Universities are a key driver of job creation, job growth and productivity improvements in this nation."

However, of those graduates employed full-time, 22.4 per cent felt that they were not fully using their skills or education in their current positions three years after graduation.

About 19 per cent said this was because there were no suitable jobs in their area of expertise, while a further 13.6 per cent it was because there were no suitable jobs in their local area.
Tags
Channels

Alumni — Media Statements — Students — University News

Groups

School of Biological Sciences