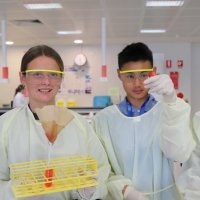 Wednesday, 9 October 2019
The University of Western Australia is providing advice to ever younger students as the demand for professional advice on university pathway planning continues to grow among younger high school students.
The University last week played host to more than 50 Year 9 students who visited the Crawley campus to experience a day in the life of a University of Western Australia student.
The students were drawn from 17 metropolitan high schools and a Bunbury school and were eager for an insight into university life and to be provided with information to inform their future study choices.
Trish Rechichi, UWA's Director of Future Students said that this was the third year in which the University had run an event specifically catering to Year 9 students, typically aged 14 to 15-years-old.
"This year, we asked our Student Ambassadors to develop a program of activities that appeal and will inspire Year 9s," Mrs Rechichi said.
"Today's students are very engaged. They, and their parents, want to be informed about the best pathways and the many options for study at university, and this is happening far earlier than Years 10, 11 and 12.
"Providing an understanding of the different types of courses and how they can be put together in varied and interesting ways is essential these days in helping students to build the foundation for the demands of the jobs of the future."
Mrs Rechichi said that UWA decided three years ago to organise a special annual open day event specifically for Year 9 students to meet their demand for information at that earlier age.
The University of Western Australia staff guided the students on campus, showcasing the large variety of disciplines and areas of study available at the University.
Popular activities included investigating the DNA of strawberries with practical dissection, participating in a mock legal trial in the Law School, learning about how to market products, and working in small teams to build an earthquake-proof building out of paper cups.
Churchlands Senior High School student Gemma Etheridge, one of the Year 9 visiting students, said she was interested in pursuing a career in history or law, because of her fascination for what happened in the world before she was born and interest in the justice system.
"The opportunity to visit UWA and get a taste of different fields of study is great," she said. "We need to make decisions early in high school that will affect our future and so I'm looking forward to getting some advice and insight to help make these important decisions."
Media references
Jess Reid (UWA Media and PR Adviser) 08 6488 6876
Tags
Channels

Media Statements — University News