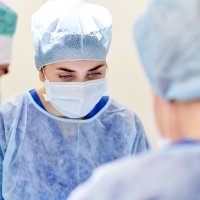 Wednesday, 9 October 2019
A team of surgeons from across Australia including researchers from The University of Western Australia has been awarded more than $780,000 from the Federal Government's Medical Research Future Fund (MRFF) to investigate the causes of surgical infections and train the next generation of surgical researchers.
Emergency abdominal surgery is a high risk operation with potentially life-threatening consequences. Infection of wounds is one of the most common complications that occur in up to a quarter of emergency abdominal surgeries. It leads to patient pain, delayed healing, increased hospital stay and sometimes the need for a further operation.
The MRFF grant of $782,256 for an Australian clinical trial - called SUNRISE - will be carried out across Australian hospitals and in collaboration with the UK.
The randomised controlled trial will assess if a new dressing that uses suction can reduce inflammation from an operation to improve wound healing after emergency surgery. In WA the trial will be led by Professor Toby Richards, from UWA's Medical School.
Professor Richards said he was delighted to see that WA patients would benefit from the most cutting-edge research.
"The trial will help us address the significant problem of infection and complications that can occur in surgery," Professor Richards said.
"In addition, this trial acknowledges the incredible collaboration of trainees, doctors and medical students who have come together in WA to support programs to benefit research. This puts clinical trials and research at the heart of patient and hospital care.
"The SUNRISE trial is unique because it will train surgical trainees to run the trial itself, allowing clinical research to be at the frontline of patient care and also training future generations to produce high quality and patient-focused care to improve medical outcomes."
Professor Richards is part of the team of Australian researchers from the Clinical Trials ANZ organisation, working in partnership with researchers based at the universities of Birmingham and Manchester in England, and sponsored by the Royal Australasian College of Surgeons.
Australian trainees and surgeons taking part in this trial include clinicians from five states – NSW, Queensland, South Australia, Victoria, and Western Australia – and the universities of Adelaide, Flinders, Melbourne, Sydney and Western Australia.
The MRFF is administered by the National Health and Medical Research Council and provides grants of financial assistance to support health and medical research and innovation, with the objective of improving the health and wellbeing of Australians.
Media references
Professor Toby Richards (UWA Professor of Surgery) 0414 654 441
Jess Reid (UWA Media and PR Adviser) 08 6488 6876
Tags
Channels

Media Statements — Research — Science — University News

Groups

Faculty of Health and Medical Sciences