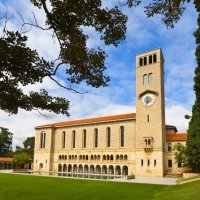 Wednesday, 9 October 2019
This article is reprinted with the permission of The Australian newspaper. It was published on Wednesday 9 October 2019.
Dawn Freshwater
Investment in study is an investment in the nation's wellbeing.

A new data set released this week has confirmed what many of us have always known: going to university makes personal economic sense for our graduates. The data shows that 91.1 per cent of graduates from Group of Eight universities — Australia's leading research-intensive universities — have full-time employment three years after graduation.

University education makes even greater sense for our national economy — a point acknowledged by federal Education Minister Dan Tehan, who has described universities as "a key driver of job creation, job growth and productivity improvement".

When we think of universities, what image comes to mind? Students attending protest rallies instead of attending to their studies? Philosophy professors wearing tweed and speaking incomprehensibly? Wild-eyed chemists pouring coloured liquids into flasks atop Bunsen burners? Or do we think of robes, pomp and pomposity; and a cloistered community that exists in our world but is slightly removed from it?

Today's universities are in fact large, complex workplaces where thousands gather to build tomorrow's economy.

I have been privileged to be part of a group of vice-chancellors that Tehan has convened to boost graduate employment outcomes, improve universities' links with industry, and commercialising the high-value intellectual property that stems from our research.

Two generations ago, university was an experience that was available only to a small minority. The reforms to our education system since the 1970s have not only allowed the growth of Australia's higher education sector but also have lifted the proportion of university graduates in Australia to almost 30 per cent.

Moreover, two in five Australian school-leavers now enrol in higher education. What was once a difficult and narrow path to higher education has become a broad avenue. This has required a significant investment by the nation in our young people and a transformation in educational pathways. The question of the national value of universities is not purely academic.

What have been the results? The new 2019 Graduate Outcomes Survey — Longitudinal data assist us in making an objective case for the value of a university education for those who receive it and for the nation.

GOS-L shows employment outcomes for university graduates three years after completing their degree. It compares results from a 2016 survey taken four months after graduation and gives a much clearer picture of graduates' career progression after they finish their studies.

It shows 90.1 per cent of bachelor degree holders were in fulltime employment three years after graduating compared with 72.6 per cent after four months. These numbers improve again for postgraduate degree holders — 93 per cent are in full-time employment after three years.

Moreover, the new data shows that even when wages growth across the country has been sluggish, graduates' salaries rose in their first three years post-study $58,700 after four months to $ $72,800 after three years. Postgraduate salaries after three years are higher still at $95,000.

It pays to learn. And in terms of postgraduate study, more, it seems, is more. Graduates of Go8 universities on average have an even higher graduate premium than the national average.

For Go8 bachelor degree holders the three-year full-time median salary was almost $1000 higher than the national average, while our coursework postgraduate degree holders' salary after three years was over $1600 more than their peers outside the Go8.

Of course, the ability of our graduates to earn higher incomes directly facilitates growth in economic activity and higher income tax receipts to the Treasury. It shows the nation's investment has a significant and swift return. But there is more — much more.

Last year, London Economics published an econometric study into the economic value of Go8 universities. Among its key findings was that there is clear and overwhelming evidence of the dramatic overall economic effects of these universities on the nation's economy.

The economic benefit of the teaching, research and international education provided by our leading universities reach many people who might never set foot on a university campus.

Every dollar invested in Go8 university research produces almost $10 in positive economic impact.

The University of Western Australia's founding mission, written into the 1911 act of parliament that established UWA, is to "advance the prosperity and welfare of the people" of Western Australia.

The sentiment is not atypical: across the land, universities advance the prosperity and welfare of Australians, whether or not that was articulated in their founding documents.

But prosperity is not only about money. Our students are not only economic units — they are human beings, citizens and family members. And our research is not only about industry productivity — it saves lives, explores our universe and tells us who we are.

But our students are learning skills vital to the economic future of the entire country; our professors are cutting new pathways and forging new industries.

In the face of an uncertain global economic outlook, industry and governments must work in partnership with universities. Their input is invaluable in helping us to build 100,000 talented, smart and engaged graduates each year for the workplaces of the future. And their investment in new Australian knowledge will ensure Australia retains its technological advantages for the decades ahead.
Dawn Freshwater is vice-chancellor of The University of Western Australia and chair of the Group of Eight.
Tags
Channels

Alumni — Business and Industry — Media Statements — Students — Teaching and Learning — University News

Groups

Migrate — School of Biological Sciences