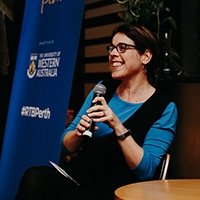 Wednesday, 9 October 2019
Twenty world-leading researchers from The University of Western Australia are set to transform Perth bars into learning spaces, hosting free public talks for this year's Raising the Bar event on Tuesday 29 October.
The researchers will appear in 10 CBD bars on one night to explain how they are tackling global, national and regional issues to make the world a better place. The talks include:
Dr Lies Notebaert , The Mezzanine - Grand Bar & Bistro, St Georges Terrace
What makes some people more resilient than others? Where does resilience come from? Can resilience be learned?
Professor Thomas Bräunl , Ivy & Jack, Hay St
Find out more about future trends in the automotive industry and work being done at UWA's Renewable Energy Vehicle Project (REV) to get a peek at what your next car could look like.
Dr Hayley Christian ,The Globe,Wellington Street
What dogs can do for us. This talk will highlight how our furry four-legged canine friends help us to be more active physically and improve our social and mental health.
Kevin Vinsen ,Helvetica Bar,St Georges Terrace
Join the great space coaster, a journey into current explorations in radio astronomy, gravitational wave detection and sending messages to Proxima Centura B. Will these projects help answer the question 'Are we alone in the Universe?'
Associate Professor Nahal Mavaddat , The Deck - Grand Bar & Bistro, St Georges Terrace
Ever had a doctor who seemed a little distant or detached? You're not alone. Patients increasingly report a
lack of empathy from their doctor and within the healthcare system. Can empathy be learnt?  How can we change this for the better?
For a full list of speakers and venues visit www.rtbevent.com/rtbperth
UWA's Director of Research enterprise, Dr Campbell Thomson, said Raising the Bar was a chance for people to discover the world of research in an accessible and fun format – while enjoying the evening in a Perth bar.
"We're making higher learning a part of our city's popular culture," Dr Thomson said.
"By taking our research into the public arena, in a relaxed setting, we are giving people in Perth the opportunity to hear world-class researchers explain – in everyday language – relevant and problem-solving solutions to some pretty big questions."
Raising the Bar is for one night only and last year's talks booked out early, so register now to secure your spot. This is an 18+ event and ID may be required. Along with Raising the Bar Perth, discover more about UWA's research impact at research.uwa.edu.au/events
Media references
Jess Reid (UWA Media and PR Adviser) 08 6488 6876
Tags
Channels

Events — Media Statements — Research — University News