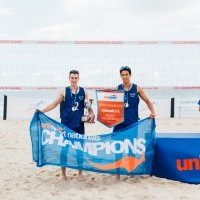 Monday, 7 October 2019
After another successful year of competition on the Gold Coast, UniSport Australia has announced that Div 1 and Div 2 Nationals will be held in Perth in 2020.
The Div 1 and Div 2 Nationals will run concurrently from 26 September to October 2 and attract approximately 6,000 interstate participants and over 1,000 participants from local universities.
The University of Western Australia hosted 2019 Indigenous Nationals, with WA last hosting Nationals in 2016.
The home advantage was enjoyed by Team UWA, who came away as overall champions in 2016.
The event brings together competitors from Australia's 43 universities to compete in individual and team sports such as badminton, basketball, futsal, golf, netball, sailing, tenpin bowling and water polo.
The competition is set to be staged at a range of locations across Perth, including the Bendat Basketball Centre, State Netball Centre, HBF Stadium and Champion Lakes Regatta Centre.
UniSport CEO Mark Sinderberry said, "Beyond this amazing opportunity for the participants, we also recognise the significant role participation in sport plays in student wellbeing and positive learning outcomes. The Nationals provide a wonderful opportunity for university students to compete and enjoy inter-university rivalry in a fun and friendly environment."
Let's go Team UWA!
Media references
Louis Humberstone
UWA Sport Marketing, Communication and Events Coordinator
6488 4309
Tags
Channels

Sport

Groups

UWA Sport