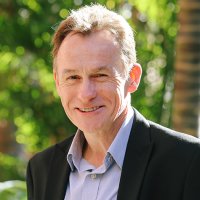 Friday, 4 October 2019
Researchers at The University of Western Australia have been awarded more than $2.8 million in funding for two research projects that will investigate treatment of a common heart condition and whether breast cancer patients benefit from MRI.

The research grants are part of the Federal Government's Medical Research Future Fund which aims to support researchers to make the next big medical discoveries that benefit all Australians.

Clinical Professor Graham Hillis, from UWA's Medical School and head of the Department of Cardiology at Royal Perth Hospital, is leading an international team that will investigate whether early valve replacement improves the outcome for patients with severe aortic stenosis, or narrowing of the valve between the heart and the major artery that carries blood around the body.

Professor of Surgical Oncology Christobel Saunders, also from UWA's Medical School, is leading a national team to investigate whether breast magnetic resonance imaging (MRI) can improve health outcomes for breast cancer patients while also saving them money.

Professor Hillis said aortic stenosis was a common and serious heart condition that was becoming increasingly frequent due to an ageing population.

"The narrowing of the valve prevents it from opening fully which then obstructs blood flow from your heart into the aorta, the main artery in your body," Professor Hillis said.

"This means that your heart needs to work harder to pump blood around your body. This narrowing builds up over many years and can often go unnoticed but eventually it can start to cause problems such as chest pain, breathlessness and blackouts."

Professor Hillis said that the standard approach in patients with aortic stenosis was to wait until these symptoms developed and then to replace the valve.
"What we're hoping to find out is if we act early to replace the valve, as soon as the narrowing becomes severe, will the patient have a better outcome than if we adopt the traditional plan of watching and waiting," he said.

In a landmark collaborative trial, the researchers here in Australia will work with colleagues in the United Kingdom and in New Zealand to test the best strategy by randomising 2,844 patients with severe aortic stenosis. They will either undergo early valve replacement or a conventional approach of regular close follow-up, with surgery recommended if and when symptoms develop.

Professor Saunders said there was a lack of evidence as to which women with breast cancer benefited from breast MRI before surgery.

"We know that up to 20 per cent of Australian women are recommended to undergo this procedure by their health care team and up until now most of them have had to bear the cost of it themselves," she said.

"We're proposing to undertake a series of studies to address the critical gaps in our knowledge around the effectiveness of breast MRI in two groups of women.

"The first group is those women with symptoms of breast cancer where prior imaging such as ultrasound and mammography and physical examination has been inconclusive for the presence of breast cancer and biopsy has not been possible.

"The second group is women who have just been diagnosed with invasive breast cancer where there's a significant discrepancy between clinical examination findings and conventional imaging such as mammography and ultrasound.

"The treatment plan for these women could change after seeing the results of their MRI."
Media references
Professor Graham Hillis (UWA Medical School)                                                               08 9224 1992
Professor Christobel Saunders (UWA Medical School)                                                  08 6151 1122
Simone Hewett (UWA Media and Public Relations Adviser)                                             08 6488 7975
Tags
Channels

International — Media Statements — Research — University News

Groups

Faculty of Health and Medical Sciences — School of Medicine and Pharmacology