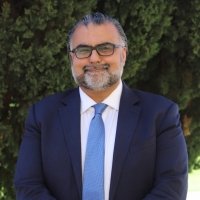 Wednesday, 2 October 2019
This article is reprinted with the permission of The Australian newspaper. It was published on Wednesday 2 October 2019.

Tayyeb Shah is a self-confessed escapee from the Brexit chaos, which he suspects — when it happens — will ripple through the UK in unpredictable ways.
But Shah also has been lured Down Under to the University of Western Australia, where he arrived in June, because he's a firm believer that the Asian century is approaching.
"Economic power has shifted East but what is less well-known is that academic power has shifted East," says the affable Oxford-educated academic whose job at UWA has the open-ended title of director, global partnerships.
In Perth he will draw on experience working with Chinese industry and universities for King's College London, in a former job he describes as "global business development".
"What does a strategic partnership look like in the future? And how do we anchor ourselves in key markets with deep multilevel relationships that will stand the test of time?"
To find an answer to such questions, Shah made 22 visits to China in 24 months, visiting most major Chinese campuses and meeting hundreds of government and industry officials. His quest came to fruition days before he left for Australia.
In just one Shah-directed project, King's signed a deal for a joint medical campus at the Southern University of Science and Technology in Shenzhen, the world's fastest growing industrial city, in Guangdong province.
In the groundbreaking scheme, medical graduates will emerge with a Chinese medical qualification and a UK-recognised one.
"You're not just training the next generation of doctors but medical leaders with a specialisation in health technology because Shenzhen is the IT capital of China, their Silicon Valley.
"We have partnered with the big IT companies, all of which have health divisions, and the aspiration is to train the next generation of medical innovators."
King's has clout in making such deals. Founded in 1829 and based in the heart of the capital, it boasts the largest medical and dental school in Europe. It has a prestigious history — a dozen Nobel laureates among its graduates and staff, and the world's first nursing school, which was set up by Florence Nightingale.
The research-intensive Russell Group university has 30,000 students, half undergraduate and 40 per cent foreign students, including many EU students. It is this reliance on EU intakes that Shah predicts will be adversely affected by Britain's Brexit withdrawal. Until now EU students have paid the same as UK students, £9250, but under Brexit they will pay the international student rate, which is double.
Shah says a Brexit "gotcha" moment is that universities likeliest to lose EU enrolments lie in regional cities where people voted substantially in favour of Brexit. Another blow is that Britain will no longer have access to EU research funding. All of which provoked Shah to look beyond his native shores.
"My role at King's College London came out of Brexit as much as anything else, from the realisation that our partnerships were very much in and around Europe. And we needed to rebalance that portfolio more towards Asia. Academic power is shifting East, and by that I mean that the top countries in Asia — China, Korea, Singapore, India — all have government-backed schemes to ensure that their universities are world-class.
In India you have the Institutes of Eminence initiative. They're all designed to ensure central government backing to provide them additional resources over and above normal universities to become elite institutions."
China has poured money into nine Chinese universities to mirror the group of Eight in Australia, or Britain's Russell Group, or the US Ivy League universities. Then there's the Double First Class Initiative, in which the authorities homed in on two universities, Peking University and China's leader Xi Jingping's alma mater Tsinghua University.
"It's fantastic, a traditional science and technology institution that has now morphed into a comprehensive university through heavy investment," Shah says.
He says China also launched the Thousand Talents program, which attracts elite academics from around the globe and offers expatriates' packages to do collaborative research in China.
"They can pay better than anyone else; they can match the Americans now. They invest in the latest kit, and research funding from the ministry of science and technology is available. They want to internationalise their campuses, recognising the value that brings to their country.
"So they will become elite institutions, I have no doubt. In time we'll see a shift of Asian universities entering the world top 200 league tables. And they will rise and rise."
The consequence is that universities in the West need to be engaging with Asian universities in deeper, more multi-layered relationships, he says.
"It can no longer be 'send us your best students, or your best academics'. It's got to be much more reciprocal.
"The projects I was involved in were recognising a window of opportunity to build relationships with Chinese partner institutions - essentially before they leapfrog you in the rankings.
"You partner with an elite institution in the making. And the Shenzhen city government is very ambitious; Shenzhen went from a fishing village to a city of over 20 million in 40 years. The region produces most of the patents in China and it's a talent magnet.
"But what it lacks is high-quality healthcare for the burgeoning middle class and elite, and high-quality education. It tried to bring in branch campuses from Beijing, but then it decided to set up on its own. So I identified the Southern University as a future superstar university."
Born in Leeds to Indian parents from the Punjab, Shah won a place at Oxford and studied politics, philosophy and economics.
He came from a humble government school. "It was odd being the only one in my school to sit the entrance exam, me and one teacher as invigilator.
"It was interesting going to university in the late 80s because at Oxford there weren't many non-white British students."
So what does Australia do to diversify its global education reach? Shah hints that while King's looked to Asia to diversify, UWA might need to balance its portfolio by looking elsewhere.
"People here are saying China is the big market but you need to diversify. Any strategy that relies on one or two countries is dubious. At King's there are students from 170 countries and only recently Chinese numbers overtook US numbers."
Recruiting students will not be his responsibility. Instead Shah will work on "connecting UWA to the rest of the world" by building relationships with foreign universities and research bodies.
"Our Vision 2030 policy talks about how UWA is well-placed to connect Australia with the Indian Ocean Rim. So how can we expand our influence from Indonesia, Malaysia, through to India, the Middle East and Africa?
"It may be working with African universities on upskilling or Indian universities on joint research projects that are industry related. I'm keen to ensure UWA is seen as the partner of choice for industry and the community it's located in. After all, we are civic institutions first and foremost."
Media references
Simone Hewett (UWA Media & PR Adviser)                                                            08 6488 7975
Tags
Channels

Business and Industry — International — Media Statements — University News